Paris, 12 November 2015
The auction for the allocation of 700 MHz band spectrum will begin on Monday in France, with four candidates taking part: Bouygues Telecom, Free Mobile, Orange and SFR.
ARCEP will issue an update on the status of the auction at the end of each day, up until the end of the procedure which could take one or several days. These updates will include:
- the price reached on each block at day's end;

- whether this is the closing price for a block (i.e. requests from the four candidates total six blocks) or whether the bidding will continue the next day as the four candidates are still requesting more than six blocks in total.
ARCEP will not provide any details on the requests made by the candidates while the auction is still ongoing.
Once the auction is complete, ARCEP will issue a communiqué on the quantity of spectrum awarded to each candidate, and the price paid for the frequencies.

Annex - Auction method used
The auction is for six blocks of 5 MHz at once, with a single price set for each block.
As with an auctioneer, ARCEP will gradually increase the price per block throughout the procedure.
- In the first round of bidding, ARCEP will ask the candidates how many blocks they are willing to purchase for €416 million.

- In each subsequent round, ARCEP will then increase the price per block by €5 million over the previous round.
During each round, the candidates state how many blocks they are willing to acquire at the price set in the current round. Free Mobile can request up to three bocks, and the other three candidates up to two blocks.
Once the sum of the candidates' requests equals six blocks, the auction ends and the blocks of spectrum are awarded at the thus reached equilibrium price.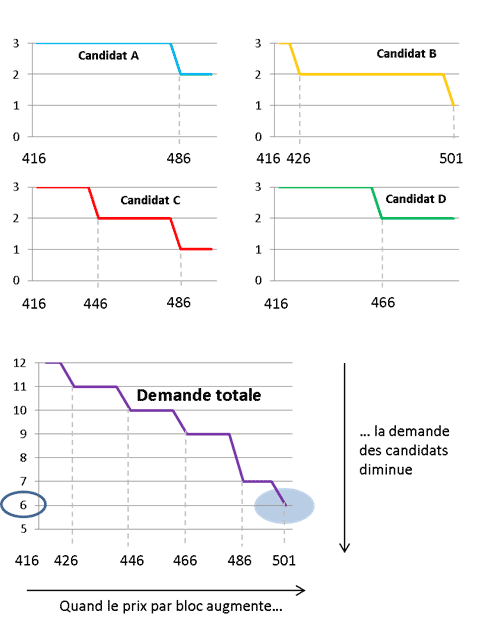 ---
Linked documents

All relevant documents in a dedicated page (in French only)