Paris, 14 March 2007
ARCEP is launching today, and until 16 April, a public consultation on the analysis of the wholesale voice call termination market on mobile networks.
ARCEP proposes to define as relevant markets those wholesale voice call termination markets on each of the mobile operator's networks.
These markets will be analysed in five different regions:
- Metropolitan France
- Antilles-Guyana (Martinique, Guadeloupe, St Martin, St Barthelemy and Guyana)
- Reunion
- Mayotte
- Saint-Pierre and Miquelon
ARCEP's analysis will cover a period of three years (2008-2010) and determine the market power of all mobile operators (which have a monopoly on their respective networks).
For mobile voice call termination, and in a concern for continuity of the regulation of these markets currently in place, ARCEP considers it necessary to maintain the existing obligations: access, non-discrimination, transparency and pricing control.
The pricing control obligation is implemented in two ways:
- obligation to practice prices reflecting costs, associated with an accounting obligation, for the three mobile operators of Metropolitan France and the two major overseas operators
- obligation to avoid practicing excessive prices for the other mobile operators concerned by this analysis
Each of these obligations may lead to different call termination levels for different players which take into account the specifics of the market and of the operators in place.
The details of the obligations, in particular the pricing control obligation, to be imposed on the Metropolitan and overseas operators during the validity period of this analysis have not yet been determined. They will be during the summer of 2007 when a new public consultation is planned.
←
Déplacez le curseur pour consulter le contenu du tableau
→
Major competition problems on the wholesale and retail markets
ARCEP has identified four types of competition problems which might justify maintaining obligations already in force and is submitting them to a public consultation:
- First, ARCEP considers that in the absence of regulation, mobile operators are pushed to raise their call termination fees and are under no pressure to lower them.
- Next, the main consequence of the historic structure of voice call termination, resulting from a practice of financing mobile networks by fixed-mobile calls under the bill and keep system, was that the levels of mobile voice call termination are much higher than those of fixed voice call termination, reaching absolute levels which are structurally high. These high wholesale levels are seen on the retail level in high fixed-mobile charges, which create the risk of a distortion in consumer choices and basically in the transfer of value between fixed and mobile consumers.
- Competition problems may also result from situations in which a mobile operator practices call termination charges which are significantly higher than those set by its competitors, a situation which may occur when the operator is not regulated on its call termination market, whereas all of its competitors are. The mobile operator would manage to collect significant interconnection revenues from it competitors and would therefore be able to practice much lower retail prices, allowing it to attract more customers. It is for this reason that ARCEP plans to regulate all operators on this market, as soon as they are launched commercially.
- Last, another commercial problem related to the wholesale market may be identified through on-net/off-net pricing differentiation practices put in place by mobile operators. Forming a general trend on the sector today, these practices are seen in the form of so-called "unlimited" offers which let customers call a certain number of customers of the same operator for a flat rate independent of the number or duration of the calls. ARCEP notes in this respect that these practices began to increase starting in early 2005, starting with the end of the bill-and-keep system at the end of 2004, for mobile operators in Metropolitan France, as shown by the increase in on-net calls in the past six years.
From a competitive point of view, ARCEP considers that these on-net/off-net pricing differentiation practices would dissuade inter-operator calls and benefit operators with the largest customer bases, since customers value the possibility of calling their main contacts with no price constraints. Plus, the effects of this differentiation are even greater when call termination fees are significantly different from costs.
Once it has received contributions, ARCEP will submit the public consultation document (accompanied by the contributions sent to ARCEP) to the competition authority, Conseil de la concurrence, for its opinion.
Then, after taking account of the comments of the Conseil and sector players, ARCEP will transmit a draft decision to the European Commission, and to other national regulatory authorities of the European Union. This draft decision will also be submitted to a public consultation during the summer 2007. During this second public consultation, the details of the obligations, in particular the control and overseeing of wholesale voice call termination tariffs, will be specified. Following this last stage, ARCEP will adopt its final decisions which will extend the current regulation of these markets.
---
APPENDIX
Growth in the share of on-net calls on French mobile networks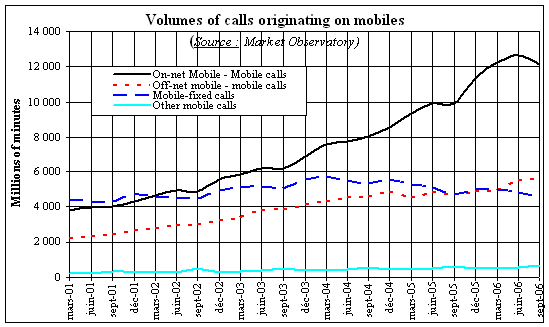 What is call termination?
This is an intermediate service offered by mobile operators to other operators, whether fixed or mobile, to terminate fixed-mobile or mobile-mobile calls.
Mobile call termination value chain

The market analysis process
The directives (the "telecoms" packet) adopted in 2002, which established a new Community framework for regulating electronic communications, include that market analyses must precede any obligations applied to players on wholesale or retail markets.
The market analysis procedure includes three stages:
- relevant market definition in terms of products and geographic area
- identification of players which might have significant influence
- definition of "remedies" in the form of obligations proportionate to the competitive problems identified
The European Commission has identified 18 markets which might be subject to sector-based regulation. In the mobile sector, the Commission has identified three wholesale markets: mobile voice call termination, access and mobile call origination, and international roaming.
---
Linked documents

The public consultation document is available for downloading (pdf (pdf - 689 Ko)

)

Current regulation of mobile call termination
Current regulation of mobile call termination is based on the following decisions (in french only

) :

Decision no. 04-0936 (pdf - 350 Ko) (definition of markets in Metropolitan France)


Decisions no. 04-0937 (pdf - 521 Ko), no. 04-0938 (pdf - 517 Ko) and no. 04-0939 (pdf - 531 Ko) (powers and obligations of Orange France, SFR and Bouygues Telecom)


Decision no. 05-0111 (pdf - 360 Ko) (definition of the markets in the Overseas area)


Decisions no. 05-0112 (pdf - 482 Ko), no. 05-0113 (pdf - 489 Ko), no. 05-0114 (pdf - 470 Ko), no. 05-0115 (pdf - 479 Ko), no. 05-0116 (pdf - 477 Ko), no. 05-0117 (pdf - 477 Ko) and no. 05-0118 (pdf - 421 Ko) (powers and obligations of the operators in the Overseas area)