Paris, 16 May 2014
Working to achieve national harmonisation to increase the chances of commercial success for fibre networks nationwide

The pace of open access fibre local loop rollouts has increased considerably in recent months (38% increase in homes passed, or 810,000 additional homes passed in 2013), and is expected to continue to do so, especially in the country's less dense areas. The future development of optical fibre networks, and the successful sale of access products on a large scale will depend in particular on having wholesale and retail markets that are economically and technically homogenous nationwide. It is indeed important that retail market operators be able to offer a single plan nationwide by relying on standardised and dynamic wholesale markets.
This homogeneity is not guaranteed, however, since, unlike with the copper local loop, a wide variety of public and private sector undertakings are involved in deploying optical local loops. It is thus essential that the wholesale market's "industrialisation" progress apace with network rollouts. This is why, as it announced back in November 2013 (1), ARCEP continues to work within the existing symmetrical regulatory framework on clarifying the pricing and operational aspects of accessing optical local loops, which apply to all operators and across the whole of France.
A generic pricing model to increase certainty for market players and foster consistent pricing
Achieving homogeneous pricing schemes is part of the "regional equality and solidarity" objective that is a central tenet of France's superfast broadband plan. It also meets European Union guidelines on State aid in support of the rapid deployment of broadband networks: these guidelines lay out the principles of benchmarking to be able to compare the wholesale rates charged for networks financed by public authorities and those relying solely on private initiative.
It is within this environment that a number of parties (both operators and local authorities involved in fibre network rollouts) expressed to ARCEP their need for greater clarity on the mechanisms provided for in the regulatory framework for determining wholesale tariffs. This increased clarity will in turn allow them to establish a more accurate business plan:
- by having the primary investors deploying the networks take the commercial risks and profitability outlook attached to the creation and wholesale operation of these networks into account when setting their pricing models;

- by stimulating the sale of network products through the supply of long-term guarantees that all operators will be given fair and reasonable terms of access.
To tackle these issues, ARCEP is submitting a generic pricing model for accessing optical local loops outside very high-density areas (2) to public consultation. This modelling exercise, which takes into account the specific features of the different kinds of optical fibre network project, will make it possible to specify pricing criteria that will help remedy the inconsistencies that have occasionally been found in existing pricing schemes. By proposing a benchmark methodology, the model aims to serve as a reference tool during pricing negotiations between the different wholesale market undertakings - which is the purpose of the regulation defined by ARCEP.

This model could also help clarify the economic constraints that an undertaking operating a public-initiative network will encounter in its dealings with local authorities or a group of local authorities, depending on the specific nature of the chosen legal arrangement.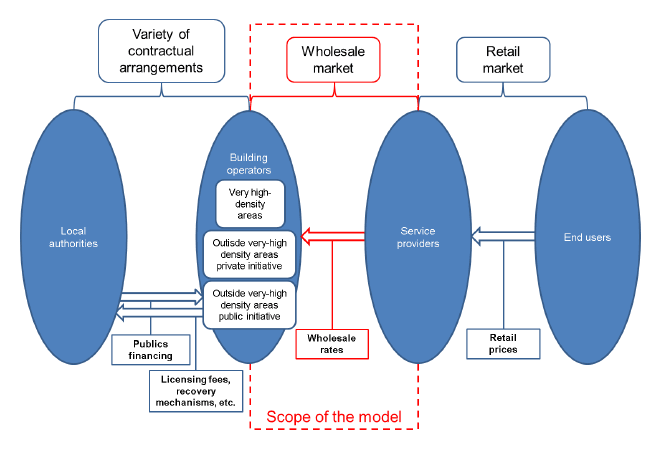 Once the public consultation - which will run until 11 July 2014 - is complete, the model will be adjusted as needed, depending on the contributions received from the various stakeholders. This consultation thus constitutes a first step in the process, and ARCEP will continue to work on the issue with all of the parties concerned.

A series of additional efforts to accelerate the "industrialisation" of superfast network rollouts and shorten the time to market for access products

Alongside the public consultation on the pricing model, ARCEP is preparing a draft decision whose purpose is to define the specifications of an accounting system that retraces the costs and revenue tied to the construction and operation of optical local loops. The aim of the system will be to provide input for ARCEP's pricing model. It will make it possible to establish time series of accrued costs and revenue, which will be compared with the original hypotheses, to then adjust the prices if necessary. This draft decision will be submitted to consultation in the second half of 2014.

In concert with the Interop'Fibre group in particular, ARCEP is also in the process of preparing a draft decision on the operational processes of network sharing. At a time when the sale of FTTH network products is accelerating, the goal is to establish a detailed list of all of the processes (exchanging information on eligibility, ordering a line, etc.) to be able to develop and implement a standardised information system between operators. This draft decision will be submitted to consultation before the summer.

All of this work is thus helping to strengthen the regulatory framework, and to assist stakeholders in their efforts to achieve structured and consistent rollout and marketing processes - all with the ultimate aim of meeting the challenge of a successful rapid and large-scale switch to fixed superfast broadband in France.
__________________________
(1) 27th November 2013 Press relase
(2) In other words, the whole of France except for the 106 municipalities (representing around 5.5 million homes, or 17% of the national total) listed in ARCEP Decision No. 2013-1475.
---
Linked documents

The public consultation (pdf - 1.02 Mo) (in French only)


The pricing model submitted for consultation (xlsx - 260 Ko) (in French only)