Paris, 13 December 2011
Following the public consultation ran from 8 September to 10 October 2011, and the opinion issued by the National Competition Authority, ARCEP is launching a new public consultation on its draft market analysis of wholesale mobile call termination rates for Free Mobile, Lycamobile and Oméa Télécom.
Regulation of new entrants in keeping with existing regulation
By imposing continuous decrease to call termination rates that operators can charge, the regulation of mobile call termination has allowed the retail market to flourish, generating an ever-increasing number of calls to mobile numbers, both on and off-net, along with the introduction of flat rate offers for fixed to mobile calls.
New players will be entering the wholesale mobile call termination market between now and the start of 2012, and will therefore be required to set the termination rate for calls to their mobile numbers. These new players include Free Mobile, fourth mobile network operator in France, along with Lycamobile and Oméa Telecom, full-MVNOs hosted by Bouygues Telecom and SFR, respectively.
These new operators are not covered by market analysis No. 2010-1149 of 2 November 2010 on mobile call termination, and glide path decision No. 2011-0483 of 5 May 2011, which are both in effect until 31 December 2013.
ARCEP therefore analysed the mobile call termination markets for these three players, and defined a glide path up to 31 December 2013, to line up with the glide path in place for the three incumbent mobile operators.
The Authority's draft analysis considers these three new players to enjoy significant power in their respective markets. In keeping with the mobile call termination regulation that is currently in effect for the three existing mobile network operators, ARCEP considers it necessary to impose access, non-discrimination, transparency and price cap obligations on new entrants as well.
In its Opinion No. 11-A-19, the National Competition Authority indicates that it shares ARCEP's conclusions and believes that, "on the matter of implementing the regulation, although the sector's regulator must continue to work towards achieving an ongoing decrease in call termination rates, temporarily allowing asymmetrical termination rates for new entrants – notably Free Mobile – could help re-establish a state of fair competition between the different players."
A European first
ARCEP points out that there is no comparable case in Europe of either a network operator or a full-MVNO entering the mobile market, in the current European context of orientation towards incremental costs, as recommended by the European Commission,
As a result, this draft decision marks a European first in introducing a regulation based on incremental costs for new entrants on wholesale mobile call termination markets.
A temporary asymmetry
ARCEP believes a relevant solution is to allow Free Mobile, Lycamobile and Oméa Telecom to offset the additional costs temporarily incurred as new entrants, in particular considering the European Commission recommendation of 7 May 20091, and the principles established by the ERG common position on MTRs of 20082 and the Conseil d'Etat decision of 20093.
The partially offset additional costs correspond to two distinct factors.
First, the expected imbalances in the new entrants' traffic in 2012 – during which time call termination rates will be temporarily higher than the long-run incremental cost – will generate additional costs due to the proportionality of the decreases planned for the incumbent operators.
The impact of this factor applies only to the year 2012.
Second, ARCEP considers that the temporary and partial use of an access contract would be an efficient measure for a period of several years during which the new operator is deploying its network and developing its retail market business. Here, ARCEP specifies that these operators' status of new entrant on the mobile market has been verified, in that this is the first time they will be providing a mobile termination service and that they have no customers on their autonomous mobile operator architecture at launch.
Access contracts therefore represent an additional cost incurred during the first years of operation, of which a portion can be taken into account when defining price caps, in the particular case of a new entry on the market.
According to the information supplied by market players, ARCEP has therefore defined pricing elements of a generic and efficient access contract, whose terms will change over time to keep pace with changes in the marketplace. The use of a generic reference contract, which exists independently from the individual contracts produced by each of the players concerned, therefore has the advantage of not having any feedback effects on these individual contracts.
The Authority expects that this factor will have an impact at least during the two year period covered by the draft decision, and for no more than four years after these new players have entered the market.
A single glide path for all new entrants
For these reasons, the Authority is proposing the following mobile termination rates:
an introductory price cap of 2.4 €c/minute, up to 30 June 2012,
a first decrease to 1.6 €c/minute, starting on 1 July 2012 and lasting six months
a second decrease to 1.1 €c/minute, starting on 1 January 2013 lasting 12 months.
These three stages will make it possible to keep pace with changes in the tariffs set by ARCEP Decision No. 2011-0483 applying to the three incumbent operators, namely:
a price cap of 1.5 €cents/minute, from 1 January 2012 to 30 June 2012,
a price cap of 1 €cent/minute, starting on 1 July 2012 for six months,
a price cap of 0.8 €cents/minute, starting on 1 January 2013 for 12 months.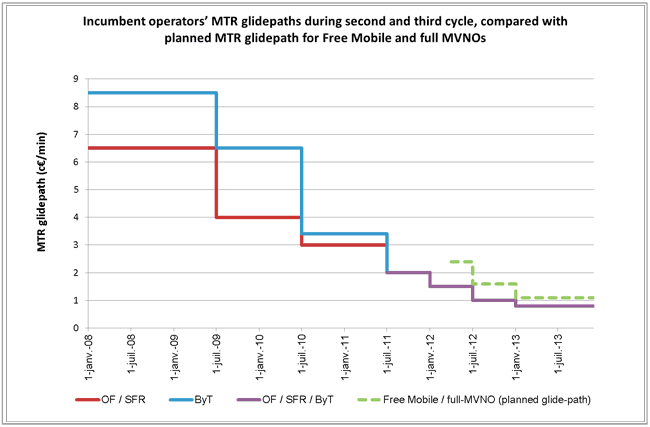 ARCEP notes that this regulatory decision does not concern the operator NRJ Mobile as the launch date for its autonomous architecture is later than the one scheduled for the operators covered by this draft decision.
The draft decision will be submitted to public consultation up to 27 January 2012. It will then be notified to the European Commission and to the national regulatory authorities in the other European Union Member States. Once these two stages are complete, ARCEP will be able to adopt its final decision in spring 2012.
___________________________
(1) http://eur-lex.europa.eu/LexUriServ/LexUriServ.do?uri=OJ:L:2009:124:0067:0074:FR:PDF
(2) http://erg.eu.int/doc/publications/erg_07_83_mtr_ftr_cp_12_03_08.pdf
(3) http://www.arcep.fr/fileadmin/reprise/textes/recours/dec-ce-orange-sfr-100709.pdf (pdf - 769 Ko)

---
Linked documents

The draft decision submitted to the public consultation (pdf - 1.51 Mo) (in French only)


The Opinion No. 11-A-19 of the Competition Authority (pdf - 216 Ko) (in French only)