Paris, 27 May 2014
ARCEP has released its annual survey of the consumer mobile services market in Metropolitan France, covering the period running from 2010 to 2013. The survey was conducted with customers of the country's four mobile network operators, Orange France, SFR, Bouygues Telecom and Free Mobile, and the two largest mobile virtual network operators (MVNOs), NRJ Mobile and Virgin Mobile.
The methodology is based on the concept of minimum expenditure
Minimum expenditure refers to what is theoretically the lowest invoice, in current euros including VAT, for an informed, free and rational consumer who has "optimised" their spending according to their consumption throughout the period in question. This is the amount that the INSEE (France's National institute of statistics and economic studies) uses to calculate its consumer price index.
Mobile service prices decreased by an average 27.2% in 2013, after having dropped by 11.4% in 2012.
This decrease affects all types of consumer, thanks to the development of high volume and unlimited plans for voice calls and SMS. The price decrease reached an average 25.5% for customers subscribing to post-paid contracts (i.e. flat rate plans, including blocked subscriptions). The price of plans without a subsidised handset dropped by 28.1% compared to the previous year.
We have nevertheless observed that, although prices dropped very rapidly between mid-2012 and spring 2013, the rate of decline has slowed considerably since then.
How mobile service prices have changed
(all types of plan)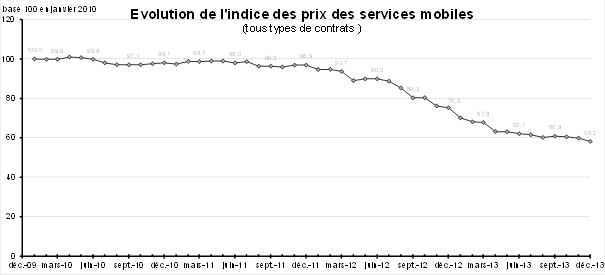 ---
Linked documents

The index of mobile prices in France from 2010 to 2013 (pdf - 1.02 Mo) (French version only)