Paris, 24 June 2014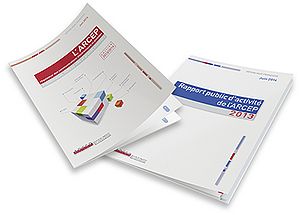 ARCEP released its 2013 annual report at a press conference on 24 June 2014. The roughly 200-page report is composed of three parts:

- ARCEP: its powers and responsibilities, its organisation, its relationship with public authorities and economic stakeholders;

- The main areas of focus in 2013: the transition to fixed superfast broadband, the introduction of 4G, infrastructure sharing and overseas markets;

- The actions taken by the Authority to ensure that regulated markets runs smoothly: the postal market, key figures for the electronic communications market, symmetrical regulation, managing scarce resources, the technical and economic aspects of internet regulation, consumer protection, etc.
This year, ARCEP is also publishing a roughly 20-page summary that outlines the Authority's role and structure, key figures for the two regulated sectors and the main work carried out in 2013, including fixed and mobile superfast access, enterprise service plans and net neutrality. This document also details a number of ARCEP proposals on several key issues.

Currently in the process of being translated, the complete annual report will soon be available in English, and the summary report will be available in English, Spanish, German and Italian.

---