Paris, 21 January 2016
Last September, ARCEP provided the Government with its opinion on roaming charges in France's overseas markets. The Government had solicited ARCEP's expertise to inform the debate over the Act on updating laws in French overseas departments and territories, which ultimately inserted a provision into the French Electronic communications and postal code that puts an end to roaming fees for mobile telephone calls and short text messages (SMS) for users travelling between Metropolitan and overseas France, starting on 1 May 2016.
Today, ARCEP is making this statement public.
ARCEP believes that this new provision will destabilise overseas markets considerably. Accompanying measures for operators would be required to ensure that putting an end to the roaming fees billed to end users is economically viable.
First it must be emphasised that, if roaming is due to become a commodity for customers in Europe, the transition will still have an impact on operators' business model: telcos need to lease another operator's network to be able to route the calls of customers travelling outside the reach of their network, i.e. when "roaming". Before retail market roaming charges can be phased out, reforms must be brought to the wholesale roaming markets in which telcos purchase their roaming solutions.
Second, ARCEP's analysis reveals the need to introduce fair use limits for customers, beyond which operators will be allowed to charge them for roaming.
Work on these topics is currently being done at the European level, but is not yet complete.
If these conditions are not met, operators' business models will be undermined, and operators in France's overseas markets will be deprived of the resources they need to introduce superfast mobile services and to invest in 4G network rollouts.
ARCEP invites the Government and Parliament to take these elements into account when debating the current Digital Republic bill, which could provide an opportunity to amend this provision.?
Annex - Overseas roaming: definition and how it works
For a user living in Metropolitan France, overseas roaming refers to the ability to use her mobile phone plan when travelling in France, but also in other parts of France that are not covered by her original operator. This is identical to international roaming, i.e. when a user from France travels abroad, or a foreign user is travelling in France. Operators typically charge a specific fee for both overseas and international roaming, which is billed on top of the usual calling or texting rate.
Work is currently being done at the European level to put an end to these roaming charges across the whole of Europe, as with Metropolitan and overseas France.
A new decrease in European roaming charges will come into effect on 30 April 2016.
Moreover, roaming charges are scheduled to disappear in Europe in 2017, provided two conditions are met:
- first, the European Commission must adopt an implementing act in late 2016 setting the applicable fair use limit, beyond which operators would be able to charge users extra for roaming;

- second, the European Parliament and Council must adopt new European regulation to reform the wholesale roaming markets that operators use to purchase roaming solutions from one another.
This work is ongoing.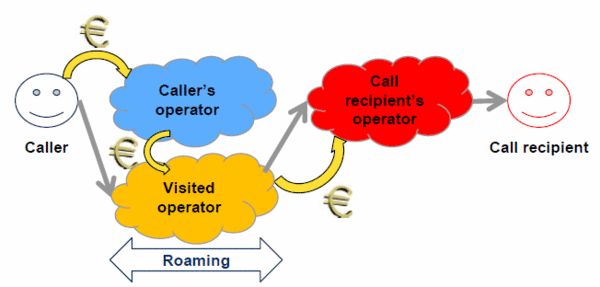 ---
Linked documents

ARCEP opinion n° 2015-1079 (pdf - 0.92 Mo) (in French only)