Paris, 12 July 2016
For the 17th consecutive year, Arcep is publishing the results of its quality audit of the services sold by mobile operators in Metropolitan France. 600,000 measurements were taken on 2G, 3G and 4G systems across the country, both indoors and outdoors, and on transport systems: regional railway (TER), suburban "Transiliens" railway, commuter trains (RER), the underground, high-speed railway (TGV) and motorways. The audit focused on the most widely used mobile services: web browsing, video watching, data transfers, SMS and voice calls. Thanks to enhancements incorporated this year, it is now easier to differentiate between the quality provided in densely populated areas (cities with a population of more than 400,000), medium-density areas (towns and cities with a population of between 10,000 than 400,000) and rural areas, and findings are provided for a larger number of transport routes. This audit is an integral part of Arcep's data-driven regulation strategy that was put into place following its strategic review, which was unveiled on 30 June.

There are significant differences between the quality of operators' services: Arcep invites everyone to compare the quality of each operator in accordance with their needs (open data)
If the overall quality of mobile services is improving, there are still disparities between operators. The rankings for 2014 and 2015 remain identical: Orange is the operator with the highest overall score; Bouygues Telecom and SFR are more or less tied, both scoring lower than Orange. The rankings for the two operators vary depending on the application in question. In last place is Free Mobile with considerably lower scores for a substantial number of indicators.

The detailed results, which can be found in the annexes and in the mobile coverage and quality scoreboard, allow anyone to compare the quality of operators' services for the uses that are important to them: calling, mobile internet, in densely populated areas, in rural areas, on the train, when driving on the motorway, etc. For the first time, very detailed information is now available on the quality of mobile internet access on a large number of transport routes.
The indicators presented in these graphs are available as open data files, so that everyone can make use of these different findings and generate their own infographics if necessary.
Mobile internet speeds continue to improve thanks to 4G rollouts
The 2016 audit reveals an ongoing increase in connection speeds, thanks in particular to the deployment of 4G access nationwide. The national average for speeds measured with a 4G device now stand at 18 Mbit/s, compared to 14 Mbit/s in 2015.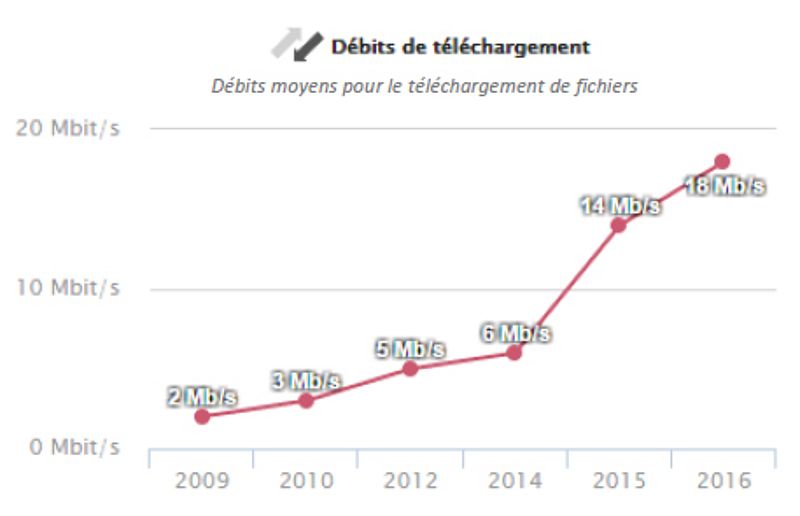 The benefits of 4G being felt increasingly in all urban areas
Connection speeds are increasing substantially in high and medium-density areas. The quality gap between rural and urban areas in France remains significant, however, and this for both voice calls and connection speeds. The average speed measured with a 4G device is 6 Mbit/s in rural areas and 30 Mbit/s in high density areas.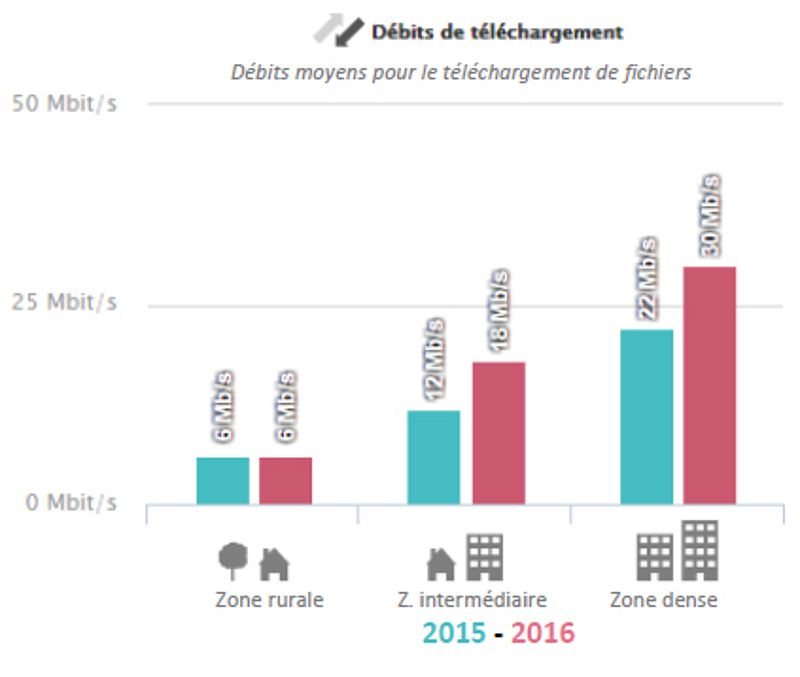 4G rollouts must continue, especially in rural areas
The latest findings reveal that operators' 4G rollouts are ongoing. Between 1 July 2015 and 1 April 2016, each operator increased its 4G footprint by around 40,000 km² (7% of the national territory). This increase is the fruit of ongoing spending by operators which, in the span of nine months, upgraded more than 6,000 towers to 4G. These rollouts must continue, especially in rural areas, to reduce the gap between rural areas and high density areas. Arcep will pay close attention to the progress being made.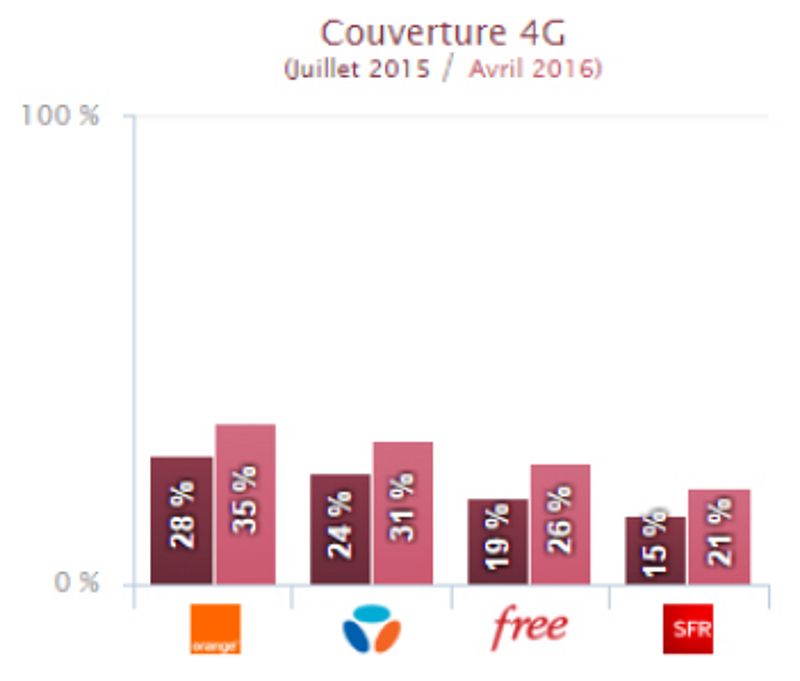 ---
Annex 1: Arcep 2016 quality audit of mobile services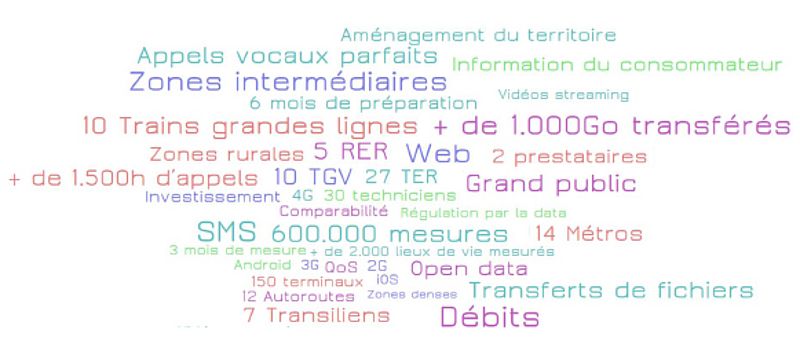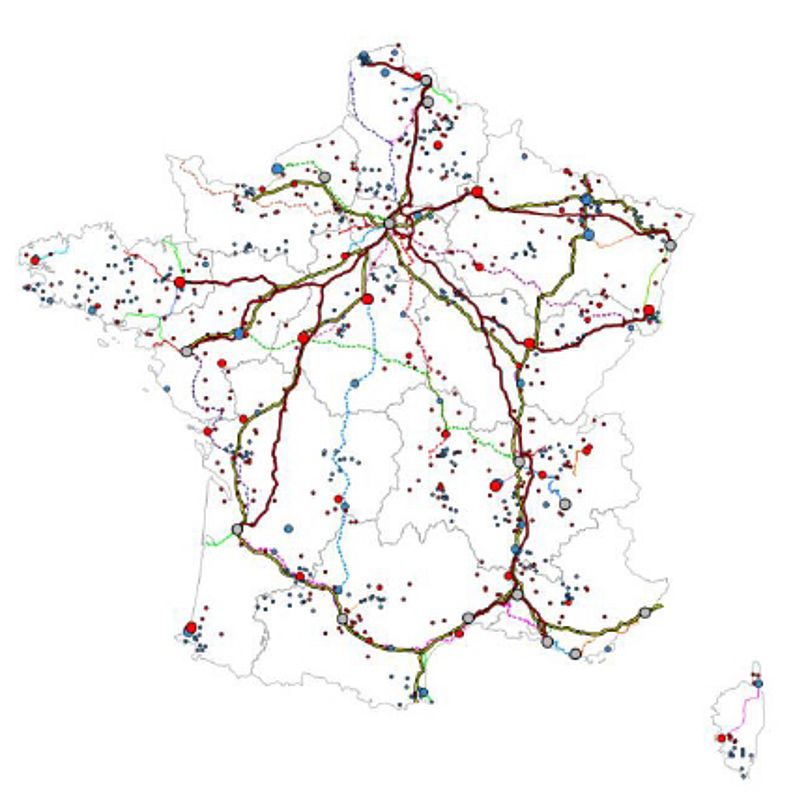 Annex 2: Summary of 2016 findings, tested with a 4G device
The complete findings are available (in French) in the mobile coverage and quality scoreboard.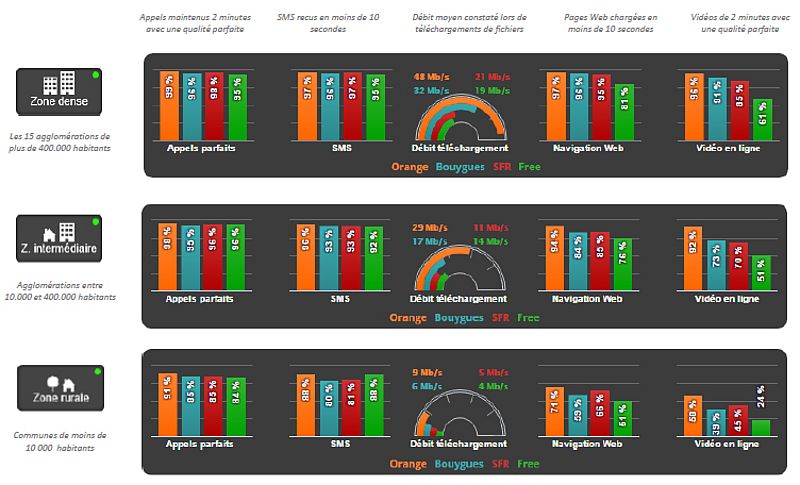 Annex 3: Mobile service quality: making an informed choice of operator
When choosing their operator, users can apply four criteria: the content of the plan, its price, the quality of the operator's service and its network coverage. If the information that is publicly available allows users to compare operators reliably on the first two criteria, it is much harder for them to compare quality and coverage levels, particularly for mobile services.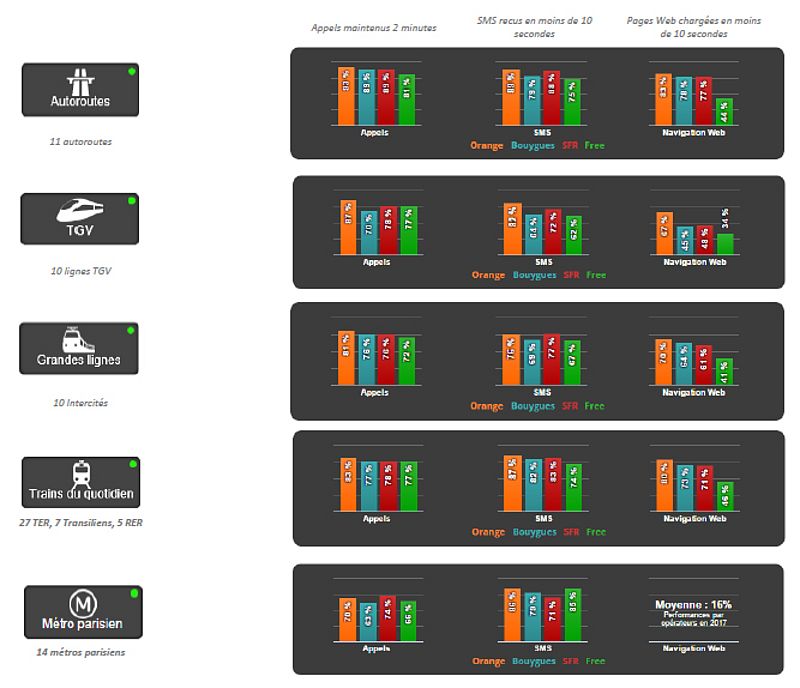 Four criteria to apply when choosing an operator

Quality of service
Quality of service is a reflection of the user experience for mobile operator's customers in areas where coverage is available. It is measured in the field by reproducing real life conditions. The quality experienced by the operator's customer depends on a number of parameters: their location (indoors, on the move, etc.), the current load on the network which depends on other users, the availability of the deployed technologies (2G, 3G or 4G…), and the mobile device being used.

Where does Arcep fit in?
To improve the market's transparency on this point, Arcep performs an audit every year that makes it possible to measure the quality of mobile operators' services, under real life conditions and in a way that enables comparison. It is the results of this audit that are being published today.

Coverage
Operators' coverage maps depict the locations where their service can be available. These maps are computer simulations: they do not make it possible to provide a guarantee of service availability. They do, however, provide a simplified version of what users can expect.
Where does Arcep fit in?
If 100% availability is impossible to achieve, Arcep nevertheless runs tests in the field to ensure that these maps are sufficiently accurate. As an added measure, Arcep wants to enhance mobile operators' coverage maps and make them available as open data files, so that anyone can make use of them. Decisions to this end will be issued in 2016.

Price
Operators are free to set the price of their mobile subscriptions as they see fit. Prices may vary depending on various parameters: content of the plan, contractual commitment, handset subsidy, promotional offers, service bundles, etc.

Where does Arcep fit in?
Arcep does not regulate operators' prices. With one exception: Arcep is mindful of ensuring that operators meet their obligations in terms of billing for international and overseas roaming, in other words how much they charge their customers when travelling abroad.
Content of the plan
2G, 3G, 4G, unlimited calls, unlimited SMS, monthly data allowance, international calls, second SIM card, contract length, service bundles, etc.: these are the constituent parts of the plans that operators sell to their customers. The content of the plan depends largely on its price.

Where does Arcep fit in?
Arcep does not regulate the content of operators' plans, which they are free to assemble as they see fit.

What about my mobile phone?
While it is not necessarily a criterion for choosing an operator, the choice of mobile handset will have a noticeable impact on the user experience. To be able to take advantage of 4G services, users must be in a covered area and above all have a 4G-compatible phone. In addition, some devices can capture signals better than others, and so provide access to better coverage.
---
Linked documents
All of this documents are available in French



Mobile coverage and quality scoreboard



Opendata files (xlsx - 10.83 Mo)



Sébastien Soriano, Chairman of Arcep in Challenges magazine



Benoit Loutrel, General Diirector of Arcep, on Europe1