Paris, 12 November 2015
The need for a predictable climate, given the sizeable investments being made in superfast access networks
As it begins to implement the actions announced upon the release of its annual report on 24 June 2015, today ARCEP is launching a public consultation on a price cap for wholesale access to the copper local loop in 2016 and 2017. This one-month consultation concerns two draft decisions: the first on unbundling products, and the second on wholesale line rental (WLR).
The introduction of price caps is new for these products, and comes in response to stakeholders' strong need for a predictable climate: with respect to unbundling as they are making massive investments in Next Generation Access (NGA) networks, and with respect to the wholesale line rental solution and the call departure product sold with it, as the enterprise market operates on multi-year contracts.
LLU price caps for 2016-2017: towards a progressive and moderate increase
These price caps are being set as part of the current round of market analysis (2015-2017). They serve to specify Orange's obligation to charge cost-based prices, while not altering either the methods or scope in effect. As a result, to take into account the transition that is underway towards superfast access, ARCEP wanted to provide the sector with what it believes are relevant incentives. It is therefore proposing to take action with respect to the pricing structure of the full unbundling offer, in a bid to bolster market liquidity and investments in new generation fixed access networks, while continuing to ensure that quality of service remains high.
The recurring monthly price for fully unbundled lines, which is currently €9.05 a month per access line, must not exceed €9.10 a month per access line in 2016, and €9.45 a month per access line in 2017. Meanwhile, the price charged for WLR must not exceed its current level in 2016 and 2017 (cf. tables below).
Outlook for 2018-2020: send out positive economic signals to ensure a successful transition to superfast access
As announced in June, this price cap marks a first step towards more substantial changes to the regulatory framework. The next round of analysis for broadband and superfast broadband markets (2017-2020) will include significant changes (planned phase-out of the switched network, accelerated transition to superfast access) and address the question of economic signals that the regulation needs to send out to stakeholders. ARCEP therefore plans on entering into a period of broader consultation with all of the market's stakeholders in 2016, with a view to establishing a second set of price caps for the period running from 2018 to 2020.
Planned price caps for a fully unbundled line



Planned change in price caps for a shared access line



Planned change in price caps for wholesale line rental (WLR) and the associated call departure product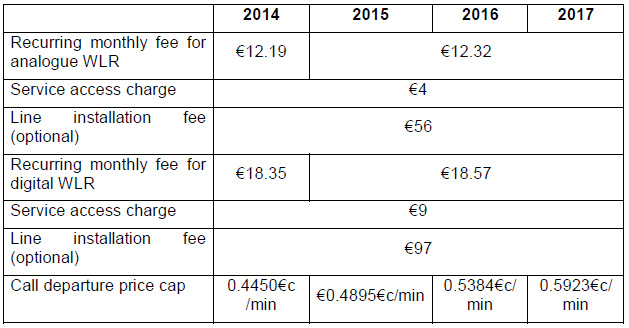 ---
Linked documents

Draft decision on a 2016-2017 local loop unbundling and shared access price cap (pdf - 530 Ko) (in French only)


Draft decision on a 2016-2017 wholesale line rental and fixed call origination price cap (pdf - 540 Ko) (in French only)