Paris, 10 July 2014
After having published the results of its latest survey of the quality of the different operators' mobile services on 23 June, today ARCEP is publishing a comparative analysis of mobile network operators' 2G/3G/4G coverage maps, whose accuracy was verified in the field.
ARCEP has obtained an improvement in the accuracy of SFR and Free Mobile coverage maps
Mobile operators are required to publish network coverage maps. ARCEP is responsible for checking the accuracy of these maps, which it does by conducting surveys in the field. As a result, close to 300,000 measurements are taken nationwide over the course of a year, to verify mobile service accessibility in the field. For the first time, tests were also performed on 4G services this past year, alongside those performed for 2G and 3G services.
The survey revealed that Bouygues Telecom and Orange 4G maps were accurate, in other words that 4G services were indeed virtually always available in those locations indicated on the operators' maps as having 4G coverage, with the exception of a few rare, temporary inconsistencies. Free Mobile and especially SFR coverage maps, on the other hand, were less accurate. At ARCEP's request, these two operators corrected their 4G maps*. They now indicate a lower rate of coverage but are more accurate. ARCEP will work to ensure that the reliability of these maps continues to increase as time goes on.
Bouygues Telecom and Orange lead the way in 4G coverage
Based on these now verified 4G maps, ARCEP has been able to calculate the 4G coverage rate for all four operators. These analyses reveal that Bouygues Telecom and Orange have a strong lead, with respectively 70% and 66% of the population covered for 4G services. Meanwhile, SFR and Free Mobile provide 30% and 24% of the population, respectively, with 4G coverage.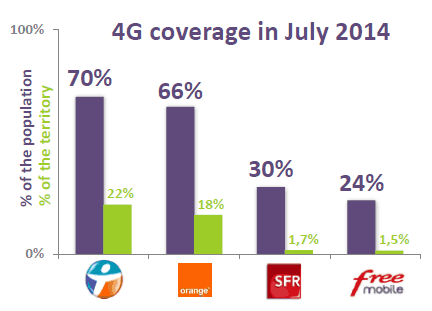 Testing also confirms the accuracy of 2G and 3G coverage maps
ARCEP also conducted surveys to verify the accuracy of operators' 2G and 3G coverage maps. These surveys confirmed a high degree of accuracy, even if a few very local inconsistences still exist. The rate of coverage calculated based on these maps is as follows:
- 3G: Orange and SFR services are accessible to around 99% of the population; those supplied by Free Mobile are accessible to around 98.5% of the population, and those supplied by Bouygues Telecom to around 96.5% of the population;
- 2G: all operators cover more than 99% of the population.
This information refers to the service provided to users, and not just the network belonging to the operator in question: operators' coverage is thus measured by taking into account the infrastructure sharing and roaming agreements signed with other operators. These tests do not, therefore, make it possible to verify operators' rollout obligations, for which ARCEP bases its conclusions solely on the network that each operator has deployed with its own frequencies.
ARCEP creates an observatory of mobile coverage and service quality
Coverage and quality of service are two complementary notions:
- coverage maps make it possible to determine, in situ, the locations where 2G, 3G or 4G mobile services are or are not available;
- as an added metric, QoS testing make it possible to measure the quality of the available services.
Today, ARCEP is thus implementing an observatory of mobile coverage and service quality that will now combine the Authority's various publications on these topics, and which will be updated on a regular basis. It is available on the "Observatories" page of the ARCEP website.
The purpose of the observatory is to enable users to make informed choices, and find the plan that best suits their needs. Users can choose their operator based on four criteria: the content of the offer, price, quality of service and coverage. If the information that is publicly available allows users to compare the first two criteria with considerable accuracy, it is much harder for them to compare quality and coverage levels, particularly for mobile services. ARCEP is thus committed to improving the market's transparency in this area, to better satisfy users' needs while also helping to shed a positive light on the investments that operators are making to improve the quality of their services.

*Free Mobile will update the 4G coverage map published on its website on 18 July 2014 at latest. ARCEP will verify, on that date, that the reliable 4G map has been published.
---
Linked documents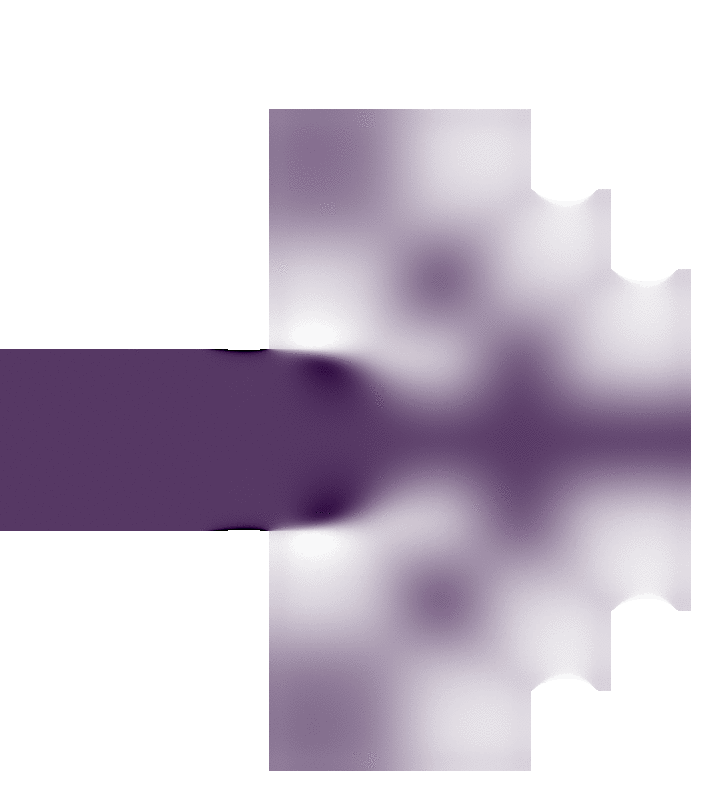 The Observatory (in French only)