Paris, 29 October 2007
Benoît Loutrel, aged 39, has been appointed Deputy Director-General of ARCEP.
Benoit Loutrel is an INSEE administrator and a graduate of the Ecole Polytechnique, the Ecole Nationale de la Statistique et de l'Administration Economique (ENSAE) and the Université de Sciences Sociales de Toulouse.
He began his career at INSEE as an economist, before becoming technical advisor to the French representative to the board of directors of the World Bank in Washington from 1996 to 1999. From 2000 to 2003, he was chargé d'affaires in Washington, then manager of the European office in Paris of the "infrastructures" department of International Finance Corporation (World Bank Group).
He joined ARCEP in January 2004 as manager of the "Fixed and Mobile Market Regulation" division, which implements ARCEP's economic and competition policy for telephony markets. In this position, he coordinated the initial implementation of 15 of the 18 relevant markets established by the regulatory framework under the second set of European directives (the 2002 telecoms packet).
He continues to manage the "Fixed and Mobile Market Regulation" division.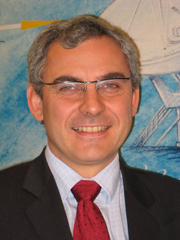 ---
Linked documents

To download the picture (jpg (jpg - 207 Ko))