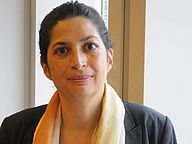 Paris, 1 March 2017

Cécile Dubarry has been appointed Director-General of Arcep. The appointment takes effect today. She is replacing Benoît Loutrel.
An engineer and graduate of the Ecole des Mines, Cécile Dubarry began her career in 1994 at the Directorate-General of Posts and Telecommunications then, from 1997 to 2002, at the Telecommunications Regulatory Authority.
In 2002, she was named Deputy Director, then in 2005 department head, Assistant to the Director of the Media development department (DDM).
Since 2009, she has been the Head of the Digital economy department for the Ministry of the Economy and Finance's Directorate-General for Enterprise and Industry (DGE).
---
Linked documents
→ Journal Officiel' decision of Cécile Dubarry appointment (1st March 2017)
→ Download the picture (jpg)