Enhance coverage maps to more closely reflect users' experience, and enable them to compare operators
Because of the strong expectations attached to the mobile coverage maps that operators publish online, working in tandem with the Government, Arcep wanted to bring changes to operators' obligations. These changes are made possible by the Digital Republic Act, and by the Act on Growth, business and equal economic opportunity.
To this end, Arcep published a draft decision for public consultation, which ran from 28 July to 3 October 2016, which marked a first step towards enhancing operators' coverage maps.
Having finalised the decision after taking into account the responses to the consultation, on 6 December 2016 Arcep adopted Decision 2016-1678 whose dual objective is to provide users with the means to better distinguish the locations where there is high quality mobile coverage and those with lesser quality coverage, and to publish these new enhanced maps from operators, which can be compared directly, as open data files.
Arcep submitted this decision for approval to Axelle Lemaire, France's Minister of State for Digital Affairs and Innovation, on 14 December 2016. Once approved, operators will have six months to publish coverage maps on their websites that will clearly distinguish areas with very good coverage, good coverage and limited coverage for mobile calling and SMS services: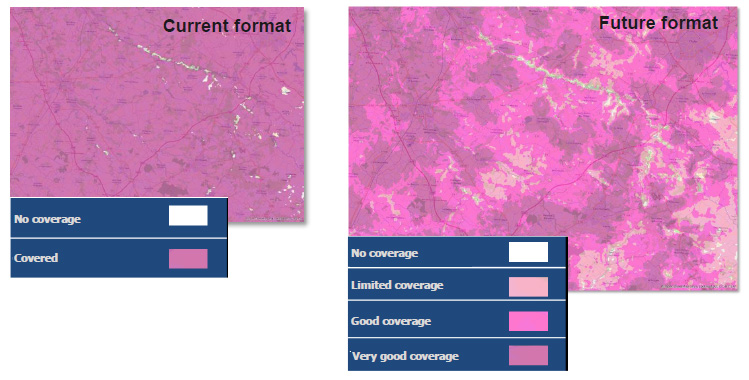 A pilot phase to fine tune the system
Because these are entirely new maps, as a transitional measure and to help operators in implementing this new framework, operators will be given six weeks from the decision's entry into force to submit their coverage maps to Arcep in the new format for a single region, namely the Nouvelle Aquitaine region. This will give Arcep an opportunity to verify their accuracy.
Reappropriating the maps for everyone
Thanks to the entry into force of the Digital Republic Act, which introduces a specific provision on the publication of maps as open data files, Arcep will make these maps available as open data. These maps will thus be published in an open and easily reusable format, to allow anyone to make use of them, to compare the coverage data they contain, and to develop innovative applications. In the not too distant future, this will enable users to choose their operator based not only on the price of their products, but also on their network coverage. This "data-driven regulation" initiative thus also aims to stimulate investments in the networks.