Paris, 24 January 2018
Wednesday, 17 January 2018, Arcep held its annual New Year's ceremony at the Sorbonne.
Pierre Moscovici, European Commissioner for Economic and Financial Affairs, Taxation and Customs, and Secretaries of State, Delphine Gény-Stefann, Mounir Mahjoubi and Julien Denormandie were in attendance, alongside Sébastien Soriano, Arcep Chairman and BEREC Vice-Chair, to celebrate the year gone by, and to set the course for the work to be done in 2018.
A resolutely European New Year's message, after a year as BEREC chair, the Body of European Regulators for Electronic Communications, for the Chairman of Arcep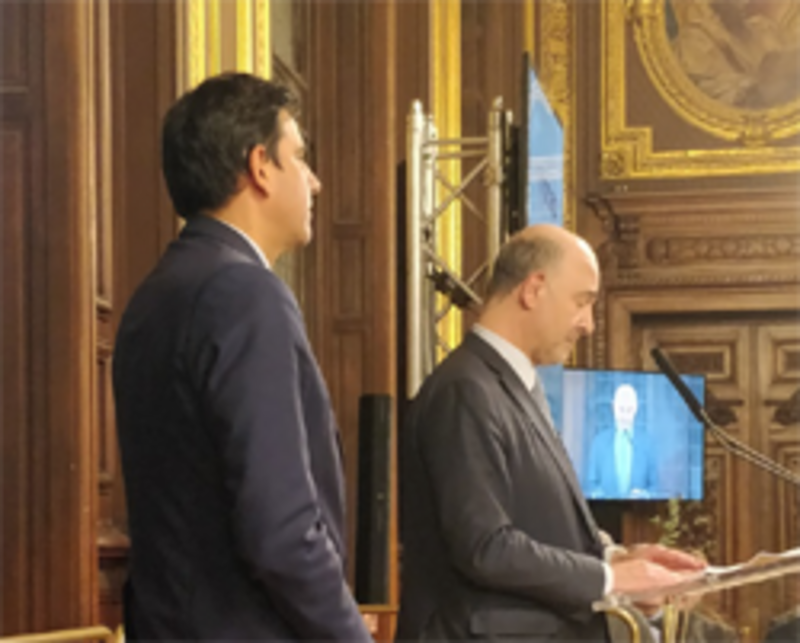 European Commissioner for Economic and Financial Affairs, Mr Pierre Moscovici, greatly honoured Arcep with his presence. His talk on fighting for a fairer tax system provided a concrete illustration of the degree to which defending the core values of European civilisation can and must remain the guiding tenet, particularly in the digital environment.
For Arcep, this ceremony marked the end of its Chairmanship of BEREC, the Body of European Regulators for Electronic Communications. Over the course of last year, BEREC engaged in a constructive dialogue with every European institution about reviewing Europe's regulatory framework. With an especially strong commitment to mobile coverage on the continent, BEREC also developed a proactive dialogue between national authorities for implementing net neutrality, and modernised its operations by creating an online public consultation tool.
An opportunity to celebrate the European model that knows how to combine competition and investment, in a way that benefits tomorrow's infrastructure.
The New Year's message for 2018 also included sincere thanks to outgoing Executive Board members, Françoise Benhamou and Jacques Stern, whose terms ended in December 2017, and words of welcome for new Board member, Serge Abiteboul, who was appointed by the President of the National Assembly on 12 January.
The telecoms family united the day following the announcement on 4G and nationwide mobile coverage
On 14 January, the French government, Arcep and operators announced that they had reached a new deal for telecoms, each one committing to doing its part to bring 4G to the entire population, as quickly as possible.
The day after this historic agreement on mobile coverage was signed, Arcep had the honour and pleasure to bring the telecoms family together, with three secretaries of State as their special guests, Ms Delphine Gény-Stefann, Mr Mounir Mahjoubi and Mr Julien Denormandie.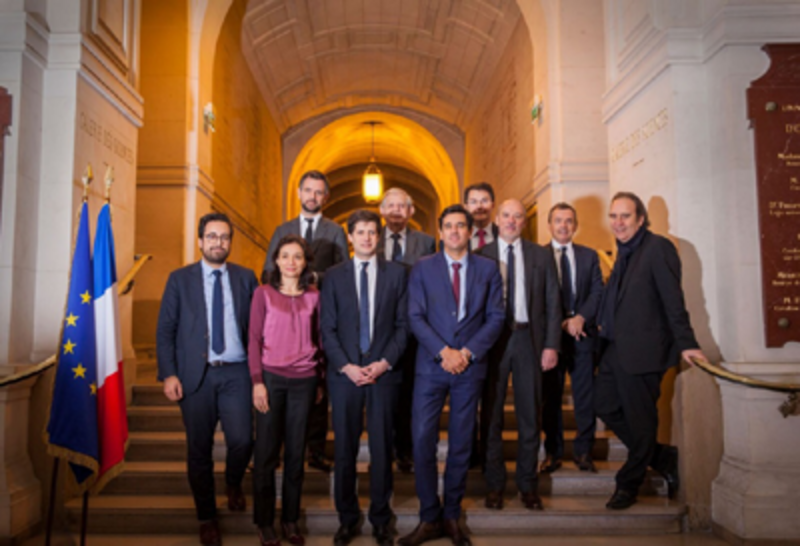 Arcep Chairman, Sébastien Soriano, spoke of the first fruits of pro-investment regulation, initiated as part of its strategic review three years ago.
After the previous round of regulation that focused, beneficially, on decreasing prices, the focus now will be on outfitting the country with networks. This new year is starting on a positive note, with an unprecedented level of investment of close to €9 billion a year.
- Pro-investment regulation: a goal, actions, results (pdf - 171 Ko)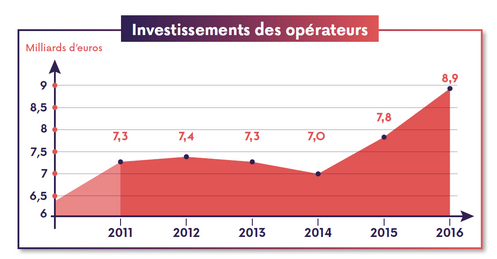 In 2018, Arcep will continue to implement and build its pro-investment regulation
i. Arcep will put its fibre regulation decisions into action: monitoring compliance with non-discrimination obligations and the implementation by Orange of its procedural changes, with a progress report due out next summer.
ii. On the business market, the priority is to develop a mass market for fibre for SoHos and SMEs, and thereby help further the digitisation of our economy.
iii. Regarding mobile access, Arcep will make the coverage commitments legally binding.
iv. Vigilance will continue to be the watchword for net neutrality.
v. Concerning postal matters, Arcep will continue to enforce its demand for full compliance with quality of service objectives, and ensure proper cost allocation in La Poste regulatory accounting. It will also introduce European regulation on cross-border parcel delivery.
vi. Arcep will begin a review of the market for terrestrial television broadcasting services (former Market 18).
The year 2018 will also bear the stamp of innovation
As part of its change in tack, Arcep has also substantiated networks' purpose as shared assets in service to the common good.
i. Arcep launched a call for full-scale 5G pilots, to which any interested party can respond.
ii. Regarding the Internet of Things, Arcep will work to protect the environment of trust needed for the development of French IoT start-ups
a. The creation of a regulatory sandbox, providing the ability to operate within a relaxed regulatory framework for up two years.
b. The creation of a portal dedicated to unlicensed frequencies, including a user reporting tool, for the sake of transparency and keeping the users of unlicensed spectrum informed.
iii. Continuing through with its actions on net neutrality, Arcep will pursue its work on devices. This will result in the publication of a report and a conference on the issue on 15 February 2018.
In 2018, Arcep will deepen and develop its data-driven regulation tools, giving each and every user the power to be a micro-regulator
i. The "Mon réseau mobile" website will include more homogeneous maps from operators, enhanced for the mobile internet (3G/4G) and overseas markets.
ii. Detailed maps on fixed Internet access will inventory the different fixed access technologies (copper, cable, fibre, UFB, wireless, fixed 4G, etc.). Every household will thus be able to see the options available to them.
All Arcep data will also be available as open data.

iii. Arcep will also make progress on the partnership and crowdsourcing front.
a. Arcep has already partnered with the Qosbee app which allows its users to determine the best mobile operator for them, according to their needs, thanks to the regulator's data. The call to mobilise other crowdsourcing players to contribute to measuring quality of service will continue.
b. On the matter of fixed internet access quality, the Arcep report on the state of the internet will lay the foundations for a crowdsourcing-based approach.
Arcep will continue to be busy on the international stage, serving as vice-chair of BEREC (Body of European Regulators for Electronic Communications) and of FRATEL (the network of French-speaking regulators)
i. For its work within BEREC, Arcep will champion the work being done on net neutrality, mobile and international relations.
ii. Sébastien Soriano will also join the executive committee of FRATEL, the network of telecommunications regulators from French-speaking countries, before becoming chairman in 2019.
A change in the way Arcep teams work, with a view to making it the first "liberated government organisation" in France
Arcep's teams are currently engaged in an internal examination of the way it operates, its work methods and its ability to adapt to the challenges of our time. Arcep's move to new offices at the end of the year will provide an additional opportunity to translate this thought process into action.
---
Linked documents