Geneva, 8 October 2009
ARCEP Chairman, Jean-Ludovic Silicani travelled to Geneva on Wednesday, 7 October on the invitation of Mr. Hamadoun Touré, Secretary General of the International Telecommunication Union, to take part in a regulators' round-table that was held as part of the 2009 edition of Telecom World, an event organised every three years by the ITU.
Devoted to the topic of "Regulating in times of crisis," this round-table brought together Masataka Kawauchi, Japan's Vice-Minister of Internal Affairs and Communications, Matthias Kurth, President of Germany's national regulator, BNetzA, Amr Badawi, Executive President of Egypt's National Telecom Regulatory Authority, Mohammad Omran, Chairman of the United Arab Emirates' ETISALAT and Doyle Gallegos, the Lead ICT Policy Specialist at the World Bank
In his talk, Mr. Silicani focused on several fundamental principles of regulation which are particularly crucial in times of crisis:
The electronic communications sector's momentum relies on a virtuous triptych of innovation/investment/competition;
Regulation must work to stimulate investment and innovation to ensure long-term growth. It must also enable the definition of a clear and lasting regulatory framework to allow economic stakeholders to make well-informed investment decisions – the prime examples being the massive investments that will need to be made in the coming years, in France and across Europe, to deploy ultra high-speed fixed (FTTH) and mobile (4G-LTE) networks.
In response to a question, the Chairman of the Authority stressed the fact that the goal of regulation is not to achieve "maximum" regulation but rather "optimum" regulation, which can generate a fair return on investment while enabling operators to continue to innovate, provided a portion of gains are passed on to consumers in the form of lower prices and/or marketing innovations.
While in Geneva, Jean-Ludovic Silicani also met with Hamadoun Touré, Secretary General of ITU and Houlin Zhao, the Vice-secretary General of ITU.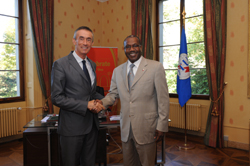 Jean-Ludovic Silicani et Hamadoun Touré – Genève le 7 octobre 2009
© ITU, V. Martin
---
Linked documents