6 January 2003
By a decree of the President of the Republic dated 3 January and published in the Journal Officiel, Mr. Paul Champsaur, General Inspector at INSEE, is named chairman of Autorité de Régulation des Télécommunications (ART).
He replaces Jean-Michel Hubert whose six-year mandate ended on 3 January.
At the same time, in a decision dated 31 December 2002, Mr. Jean-Louis Debré, President of the National Asssembly, named Mrs. Gabrielle Gauthey, chief telecommunications engineer, Member of ART.
Gabrielle Gauthey has been named for six years and replaces Christian Bècle, whose mandate has expired.
Paul Champsaur, along with Dominique Roux, Jacques Douffiagues, Michel Feneyrol and Gabrielle Gauthey, Members of ART, as well as the General Director and all personnel thank Jean-Michel Hubert and Christian Bècle for their fine work in setting up ART and in assisting it in its work in opening the telecommunications market to competition.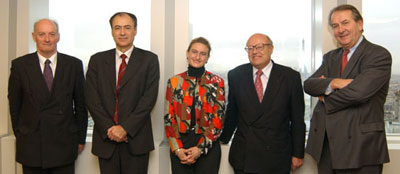 ---
Curriculum Vitae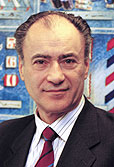 Paul Champsaur was born in January 1944 and is a former student of the Ecole Polytechnique. He graduated from Ecole Nationale de la Statistique et de l'Administration (ENSAE) and is General Inspector at INSEE.
He began his career in 1981 as scientific director at the Center for Operational Research and Econometrics at Université de Louvain, in Belgium. Named assistant director of ENSAE in 1983, he next joined the forecast division at the Ministry of the Economy and Finance where he occupied the positions of assistant director of external relations (1984-1986), assistant director of sector studies (1988-1990), assistant director of macro-economic and financial reviews (1988-1990), then assistant director of that division in November 1990.
In October 1992, Paul Champsaur was named chief executive officer of Institut National de la Statistique et des Etudes Economiques (INSEE). Since 1995, he is also member of the Economic Analysis Council.
________________________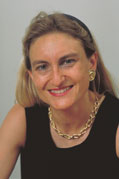 Gabrielle Gauthey is 40 years old, and a former student of the Ecole Polytechnique. She holds a DEA graduate decree in economic analysis, and is engineer in chief of telecommunications.
She began her career at France Telecom and joined DATAR in 1992 as manager of the foreign investments department in France and General Secretary of the "Invest in France" network. From 1995 to 1997, she was technical advisor, in charge of telecommunications and information technologies for François Fillon, Minister for Post, Telecommunications and Space. From 1998 to July 2000, she was Assistant Director at Sofirad, and Chief Executive Officer of "Le SAT", the first digital satellite bundle of French radio stations in Africa. In July 2000, Gabrielle Gauthey was named Director of New Information Technologies and Communication at Caisse des Dépots et Consignations, and was responsible for the "regional digital development" programme by a mandate of the State (CIADT dated 9 July 2001).
---
Linked documents

To download the picture of the College (zip - 1.92 Mo)


To download thr picture of Paul Champsaur (zip - 7.83 Mo)


To download thr picture of Gabrielle Gauthey (zip - 1.85 Mo)

Crédit photo : Stéphane MEYER