Paris, 10 January 2013
ARCEP Executive Board member, Denis Rapone's term of office recently came to an end.
Last night Senate Chairman, Jean-Pierre Bel, appointed Pierre-Jean Benghozi as Mr Rapone's successor.

Born on 28 April 1956, a former student of the École Polytechnique and Director of Research at the CNRS, Pierre-Jean Benghozi is a professor at the École Polytechnique where he heads up the Centre for Management and Economic Research. He has also been in charge of the Innovation and Regulation in Digital Services Chair since 2007.

Pierre-Jean Benghozi is the author of a number of publications, many of which are devoted to the work he has done over the years on the development and use of information and communication technologies (ICT) inside large organisations, and on the associated economic strategies and dynamics.

Among these is Pierre-Jean's article entitled, "The Digital revolution: why speak of new business models? (pdf - 257 Ko)" which appeared in the June 2010 issue of the Authority's quarterly review, Les cahiers de l'ARCEP, which focused on the building blocks of the digital revolution (available in French.

A professor at several leading universities in France and abroad, Pierre-Jean also acts as an expert advisor to public administrations and private companies.

When asked to sum up his multifarious endeavours, Benghozi replied, "If I had to define the direction my work has taken over the past several years, I would bring it down to two main preoccupations. The first is the desire to achieve a balance between research, teaching and research management, while the second is to have all of my work be fully part of an international environment".

The ARCEP Executive Board has seven members in total: Jean-Ludovic Silicani (Chairman), Françoise Benhamou, Daniel-Georges Courtois, Marie-Laure Denis and Jacques Stern. A second appointment is forthcoming as Jérome Coutant's term of office recently came to an end as well.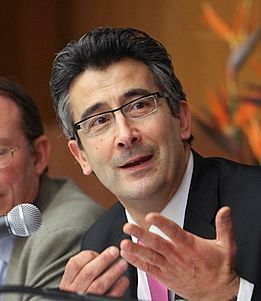 ---
Linked documents