Paris, 21 January 2008
Autorité de Régulation des Communications Electroniques and des Postes (ARCEP) and the Conseil Général des Information technologies (CGTI) are publishing the results of the seventh annual survey on the diffusion of information technologies (fixed telephony, mobile telephony, Internet, personal computer) in France.
This survey, conducted by CREDOC on a joint request from ARCEP and CGTI, was conducted in June 2007 through face-to-face interviews with a sample of 2 230 people representative of the French population aged 12 years and over.
1. The fixed and mobile telephony equipment rate
The fixed telephone and mobile telephone equipment rate has changed little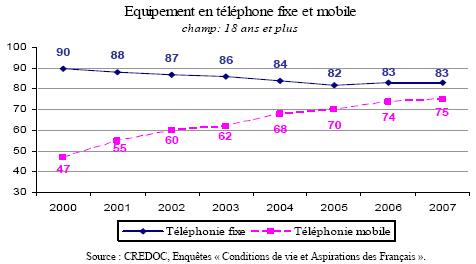 Fixed and mobile telephone equipment rate
Scope: people aged 18 years and over
Fixed telephony / Mobile telephony
In June 2007, 83% of adults had at least one fixed telephone line in their home. This penetration rate is unchanged with respect to last year. After having declined continually until 2005, the equipment rate in fixed telephony seems to have reached a plateau, which can be attributed to the success of offers pairing fixed telephony with high-speed Internet offers.
The mobile telephone equipment rate has grown very slightly. In June 2007, 75% of adults had a mobile phone. At the same time, the proportion of adults having only a mobile telephone hasn't risen in two years (15%). Now, multiple equipment (i.e. fixed and mobile) tends to be the norm: 60% of adults have both a fixed telephone and a mobile telephone. People having no telephone continue to represent only a tiny share (1%) of the population.
Competition between fixed telephony operators is developing and changing form: multi-subscriptions are surging back
Breakdown of the population by fixed telephony equipment
(as a %) Scope: people aged 18 years and over
No fixed telephone / France Telecom only
France Telecom and another operator / Other operator only
The residential fixed telephony market is becoming increasingly competitive. If we consider only those people having a fixed line, we discover that in mid 2007, 39% of people over the age of 18 had a contract with an alternative fixed telephony operator. This proportion, which has been growing every year, grew yet again by four points this year. It is a bit lower (32%) if we compare the number of subscribers having chosen an alternative operator to the entire population over the age of 18.
For the past two years, after several years of growth, the development of competition has been accompanied by a decline in multiple subscriptions with different operators. This evolution increased during the past year: just 17% of the adult population uses more than one operator, compared with 22% a year earlier. Competition is organised differently: in one year, the share of people who are customers of a single operator, which is not the incumbent, more than doubled, rising from 7% to 15%. In other words, the ways in which competition developed, which were initially imposed (carrier selection then partial unbundling) are now giving way to other ways, with full unbundling leading the way.
2. The equipment rate in personal computers and Internet
More than half of adults have an Internet connection at home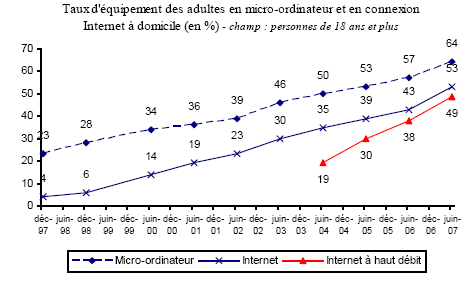 Source: CREDOC, Surveys "Conditions de vie et Aspirations des Français".
Equipment rate of adults in computers and Internet connection in the home (as a %)
Scope: people aged 18 years and over
Computer / Internet High-speed / Internet
The equipment rate in personal computers rose seven points between June 2006 and June 2007, one of the strongest growths observed in one year. The proportion of people over the age of 18 having a PC in their home reached 64%, with one-third (or 21% of people over the age of 18) having a laptop computer. The multiple equipment rate is growing at the same time: concerning 17% of people compared with 12% a year earlier.
Internet access in the home saw even stronger growth: the equipment rate of adults climbed 10 points to 53%. High speed has become the norm, with 92% of connections high speed, bringing to 49% the high-speed equipment rate among people over the age of 18. ADSL connections represent the vast majority (95%), with cable access remaining very marginal. Among people owning a PC, the proportion of those connected to Internet increased year on year. In June 2007, 83% of computer owners were connected to the Web, eight points more than in June 2006.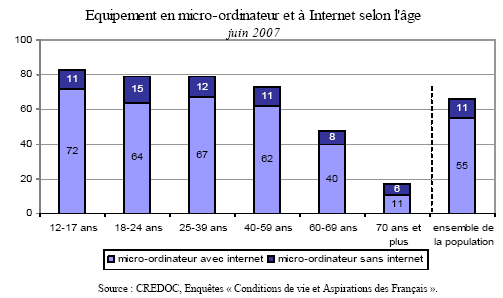 Computer and Internet equipment according to age
June 2006
12-17 years… 70 and over
Computer with Internet / Computer without Internet
The personal computer equipment rate continues to be highly linked to age; the equipment of older people is far below the average. The same is true for Internet access. Still, the generation gap is narrowing. In particular, with people aged 60 to 69, the personal computer equipment rate (48% in June 2007 compared with 36% in June 2006) and, even more so, the Internet equipment rate experienced a definite catch-up phenomenon during the past year. This age bracket saw its Internet equipment rate double in barely one year (40% compared to 21% in June 2006).
Few students do not have Internet access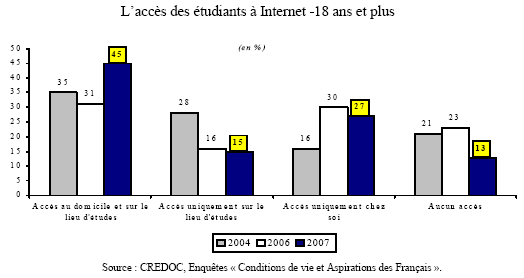 Student Internet access -18 years and over
Access at home and school / Access only at school / Access only at home / No access
The improvement in terms of Internet equipment in the home is concomitant with that of access at the workplace for employed persons or at school for students. Close to 60% of students, in particular, have Internet access at school, a proportion which rose 13 points between June 2006 and June 2007 and which is similar to the 11 point growth in home equipment. In all, close to half of students (45%) have access at both home and school (+14 points in one year). Now, the proportion of students not having access either at home or at school is 13%, down 10 points.
3. Internet Uses
Daily computer and Internet use is on the rise
In June 2007, 65% of people aged 12 and over use a computer and over 60% use Internet, whether in their home or at work for employed persons, or at school for students. In one year, these two proportions rose respectively by five and seven points. Daily use, in particular, is growing, like computer use which rose six points: in June 2007, almost half (exactly 49%) of the population uses a computer every day. Still, major disparities persist within the population: 63% of 12-17 year olds use a computer on a daily basis, whereas 64% of 60-69 year olds never do; 89% of managers use one every day, but just 16% of pensioners do.
Unsurprisingly, the PC and Internet connection usage rate in the home for equipped people is very high: 90% of people having a personal computer actually use it, as do 92% of people having an Internet connection. In both cases, two-thirds of equipped people use them on a daily basis.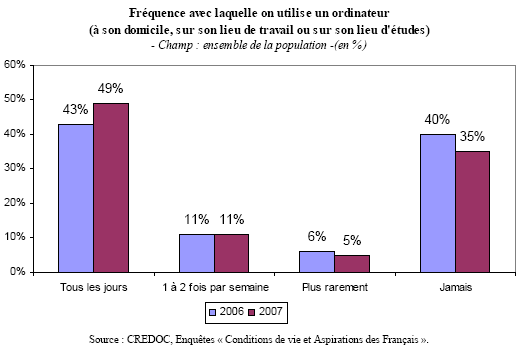 Frequency of computer use
(at home, work or school)
Scope: entire population (as a %)
Every day / Once or twice a week / More rarely / Never
The protection of personal data concerns Internet users more and more
Far ahead of price, the main obstacle to Internet use is data protection, and it is of growing concern to French Internet users: in June 2007, 23% of people consider that personal data are insufficiently protected compared with 20% the previous year. Internet users (29%) are most concerned, while people who don't use Internet indicate the complexity of use and the fact that for them, Internet is not useful for daily life. Beyond the barriers to Internet use, concerns regarding data circulating on the Net are real: four out of five people browsing the Web wish to be able to prevent the collection of evidence of their passage on the sites they visit. An identical proportion would like to be able to prevent the sites visited from sharing this information with commercial partners.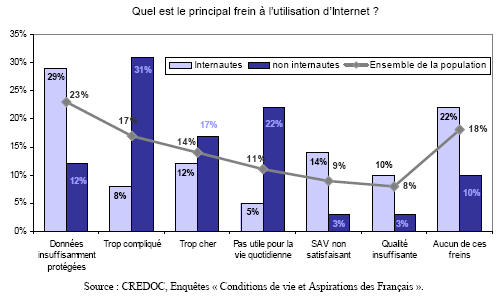 What is the major obstacle to Internet use?
Internet users - Non users - Entire population
Data insufficiently protected / Too complicated / Too expensive / Not useful for daily live / Unsatisfactory After-sales service / Insufficient quality / None of these obstacles
Internet downloads continue to grow, especially among teens
Whether films, software or music, downloads are having increasing success. In one year, the proportion of download fans grew by an additional four to five points. Of the entire population, over 20% of people download music of software from Internet and 14% download films.
Teens aged 12-17 are huge consumers: over half of them (56%) report having downloaded music during the past twelve months. Adults are three times less numerous in this practice.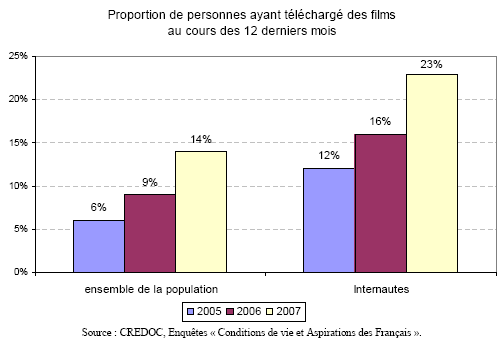 Proportion of people having downloaded films during the past 12 months
Entire population / Internet users
The success of electronic administration and electronic commerce is confirmed
The electronic administration is currently used by most Internet users: 57% of Internet users (or over one-third of the entire population) have already performed administrative or taxation procedures via Internet. In all, 19 million people have chosen to use Internet to file their tax returns, check their rights or download forms from the child benefits site, consult their social security account, etc. or four million more people than in 2006. Electronic commerce also grew strongly this year: more than half of Internet users (54%) made purchases on line during the past 12 months. The proportion was 47% in 2006 and 39% in 2005.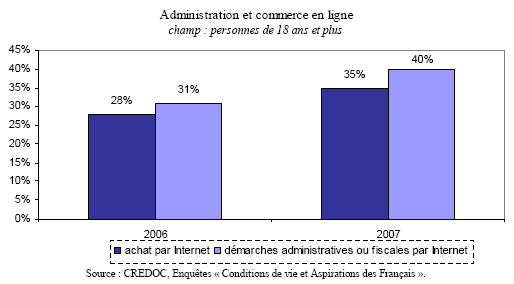 Electronic administration and commerce
Scope: people aged 18 and over
Internet purchase / Administrative or taxation procedures via Internet
Internet job searches reaches significant levels
In recent years, Internet has slowly become an important tool for seeking employment. Between June 2006 and June 2007, 28% of people using Internet used it for this purpose, or close to nine million people. Job searches on Internet are more common among young people (55% of Internet users aged 18-24), students (53% of student Internet users), employees (34%) and factory workers (41%). Finally, the lower the person's income, the more likely Internet is to be used to seek employment. So, 51% of Internet users living in households with a monthly income of €900 used it, compared with 21% with a monthly income of over €3 100.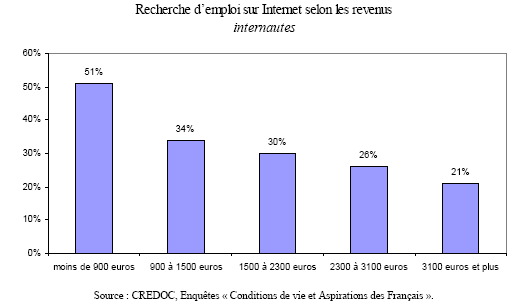 Job searches on Internet by income
Internet users
Less than €900 / €900-€1500 / €1500-€2300 / €2300-€3100 / €3100 and up
Telephony over ADSL explodes
The telephone over ADSL is seeing explosive success: in barely two years, the usage rate in people over the age of 12 has quadrupled, reaching 28%. At the same time, the telephone via computer grew little and concerns just 7% of this population. These two proportions cannot be added since among those telephoning using the computer, most are users of ADSL boxes. In all, 30% of people telephone using their Internet connection.

Fixed telephone and Internet equipment
Scope: people aged 12 and up
Own no fixed telephone
Own fixed telephone, but no Internet subscription
Own fixed telephone and Internet subscription
of which: high-speed connection
of which: telephone over ADSL ("box")
of which: telephone via computer (Skype, Messenger, etc.)
There are two ways of telephoning via Internet:
• Telephone over ADSL, also known as "voice on broadband" designates the fixed telephony services using voice on IP technology on an Internet access network. The service is provided to the user by an operator which controls service quality. In practice, the user has a box plugged into the telephone outlet.
• Telephone via computer, also known as "voice on Internet", designates the voice communications services using the Internet public network. Service quality is not controlled by an operator. In practice, the user downloads software (Skype or Net Meeting for example) onto his or her personal computer, and plugs a microphone and speakers into the computer; and if the computer has a webcam, he or she can transmit his or her image or receive that of his or her contact.
←
Déplacez le curseur pour consulter le contenu du tableau
→
NOTICE
The survey was conducted through face-to-face interviews during the month of June 2007, with a sample of 2 230 people representative of the French population aged 12 and over.
This survey describes the equipment and uses of individuals.
This means that the equipment rate is considered to be the proportion of individuals owning equipment in their home, and not the proportion of households owning equipment, which is generally the case in other studies.
For example, in this survey, 55% of the population aged 12 and over (or about 52 million people) had an Internet connection in the home in June 2007, whereas other surveys whose scope is that of households, may obtain different estimates.
The characteristics of sex, age, education, profession and place of residence are of the person questioned, the income is that of the household to which this person belongs.
←
Déplacez le curseur pour consulter le contenu du tableau
→
---
Linked documents

Press conference slides (ppt - 248 Ko) (ppt)


Content of the study / to read


To download the study (pdf - 1.36 Mo) (pdf)


Pictures of the Press conference