For some time now, the internet has relied on IPv4 to function, a protocol that must now be gradually replaced by IPv6. It is both crucial and urgent that all internet players make the transition to IPv6. The steady decrease in available IPv4 addresses (which are forecast to run out by 2021) is already driving a significant increase in the price of these addresses, which creates a sizeable barrier to entry for new entrants. It is therefore vital that services, devices and network equipment migrate to IPv6, to guarantee the internet continues to run smoothly over the long term, as IPv4 will be phased out after a period of cohabitation with the new protocol.
Arcep posts an expanded version of its barometer of the transition to IPv6 online, which underscores how far players are lagging behind
In this version of its scorecard, Arcep takes a look at all of the players along the internet chain.
The current status of and forecasts for the main operators' rollouts (for both fixed and mobile networks) are being published. The data provided by web hosting companies and alternative operators that wanted to take part in Arcep's expanded information gathering campaign are also revealed. Lastly, exclusive figures from third-party partners such as Afnic round out the barometer.
Once again this year, Arcep has ascertained that the majority of players are not planning for a deployment that will enable them to have completed the migration to IPv6 in the medium term, and urges the various stakeholders to accelerate the pace of their transition.
The delay is especially significant amongst web hosting companies – with only 5% of mail servers and 16% of the three million websites with .fr, .re, .pm, .yt, .tf and .wf domain names currently IPv6-enabled – and amongst, particularly mobile, operators.
More specifically, regarding the leading telecom operators in France: Arcep notes that progress has been made, but is calling on telcos to step up their efforts.
If 100% of SFR xDSL and FTTH (but 0% of cable) customers are already IPv6-ready, fewer than 1% are IPv6-enabled, in other words actually transmitting and receiving in the new protocol. Although scheduled to increase compared to operators' latest announcements, the upcoming rate of transition is still far from inadequate (25% – 30%* by mid-2021). Because the vast majority of users will not take the initiative to enable IPv6 manually, Arcep is calling on SFR to perform this configuration by default, as most other operators are doing. As for mobile networks, SFR is planning to have fewer than 10%* of its customers IPv6-enabled by mid-2021.
Arcep notes the efforts that Bouygues Telecom has made on its mobile networks, but regrets the scaled back migration forecasts for fixed networks: 40% to 50%* of customers enabled by mid-2021, instead of the 75% to 85% announced for the end of 2020 in the previous barometer.
The current percentage of Free and Orange fixed network customers that are IPv6-enabled stands at 50% and 45%, respectively, but projections for this indicator by mid-2022 will not make it possible to complete the transition in the medium term (between 75% and 85%* for both ISPs). The percentage of mobile network customers that Orange plans to have enabled by mid-2021 has increased, but remains very low (25% – 35%*). Arcep regrets that Free Mobile was unable to supply its forecasts.
Arcep and Internet Society France bring together stakeholders to share these conclusions and to implement concrete courses of action
The IP?6 workshop being hosted today at Arcep concludes Internet Society France's Internet Governance Forum (IGF) series of workshops.
It brings together stakeholders from a wide range of backgrounds, (telcos, hosting companies, device suppliers, international associations, training institutions, public sector players, etc.) to take part in six dedicated working groups, whose goal will be to draft proposals for concrete courses of actions designed to accelerate the transition to IPv6. The conclusions of the workshop will be preceded by talks from Jean-Jacques Sahel, Vice-President of ICANN [4] and Grégory Mounier of Europol [5].
---
____________________________
[1] Arcep specifies that the conclusions and work referred to in this press release pertain only to the internet, and do not apply to private interconnection between two parties, notably the interconnection of two operators' networks for Voice over IP call termination.
[2] Association for domain name registration and information in France
[3] Afnic data, July 2018
* Operator forecasts; figures subject to change.
[4] Internet Corporation for Assigned Names and Numbers
[5] The European Union Agency for Law Enforcement Cooperation
Status of the transition to IPv6 on the different links of the technical chain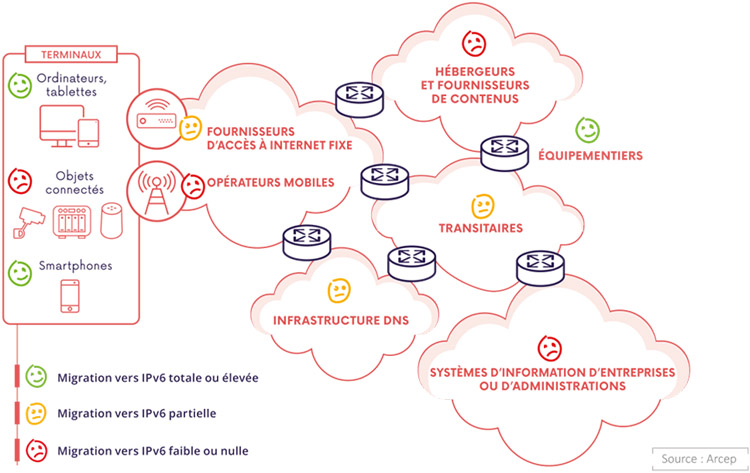 ---