Paris, 7 February 2013
Today ARCEP is releasing the results of its electronic communications market scorecard for mobile services in France in the fourth quarter of 2012.
France was home to 73.1 million mobile customers as of 31 December 2012, or 4.5 million more than at the start of the year - which marks an unprecedented rate of growth over the past 10 years. The SIM card penetration rate amongst the entire population (i.e. mainland France and its overseas markets) stood at 112% at the end of December 2012.

The number of mobile customers in Metropolitan France totalled 70.5 million as of 31 December (+6.9% on the year), marking an increase of 1.2 million during the final quarter of the year. Growth was especially high for customers subscribing to a monthly flat rate plan (+1.1 million) and for machine-to-machine cards (280,00) whose numbers had already been swelling since the start of the year.

62.8 million customers have an account with one of France's four mobile network operators (Bouygues Telecom, Free Mobile, Orange France and SFR). Meanwhile, virtual network operators' (MVNO) share of the residential market dropped slightly in Q4 - by -0.4 points down to 13%, or a total 7.7 million accounts - which is due in part to the fact that MVNO Carrefour Mobile's customers were taken over by their host operator during the quarter.

There has been a significant rise in the number of pay-as-you-go accounts since the start of 2012, after having stagnated at just under 20% in previous quarters: by the end of Q4 2012, a third of the mobile plans in use were contract-free. The number of mobile numbers being ported (7.3 million for the whole of 2012) also continues its steady rise, which testifies to the tremendous amount of operator switching taking place amongst mobile customers.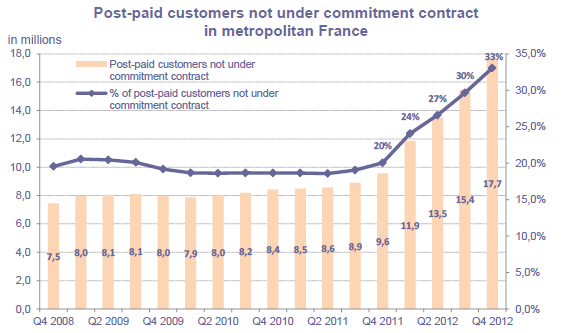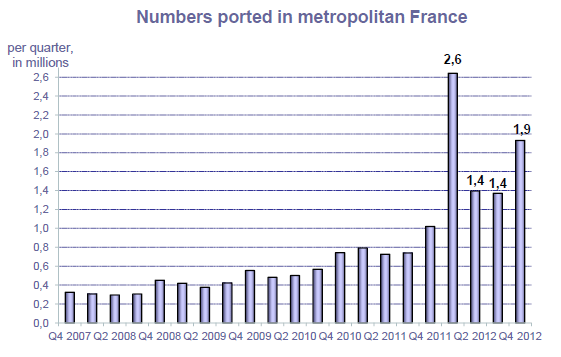 ---
Linked documents