Paris, 10 december 2008
Autorité de régulation des communications électroniques and des postes (ARCEP) and Conseil Général des Technologies de l'Information (CGTI) are publishing the results of their annual survey on the diffusion of information technologies (fixed telephony, mobile telephony, internet, personal computer) in our country.
CREDOC conducted this survey in June 2008 on a joint request from ARCEP and CGTI through face-to-face interviews with a sample of 2 221 people representative of the French population aged 12 years and over.
1. Fixed and mobile telephony Equipment
The fixed telephone equipment rate rises yet again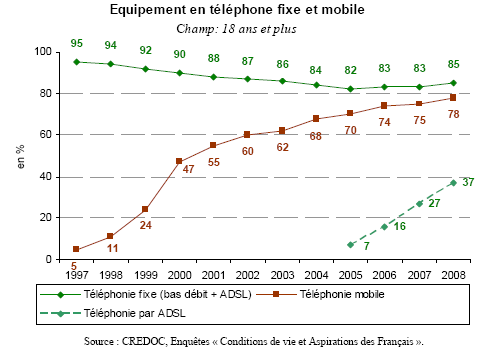 In June 2008, 85% of adults had at least one fixed telephone line in their home. This rate marks a recovery in households' fixed telephone ownership, after a decade-long decline which saw fixed phones being replaced by mobiles, and a 82-83% threshold reached between 2005 and 2007. This recovery reflects the success of high-speed service flat-rate offers combining internet, telephony (unlimited for certain destinations) and television.
Spectacular growth of voice on broadband since 2005
Telephony via ADSL has developed extremely rapidly. In June 2008, 37% of all adults—and more than half of those under the age of 40—used an ADSL box to make telephone calls.
On the other hand, telephony via computer is not developing and its use remains limited to less than one person in ten.
There are two ways to telephone via Internet:
Telephone via ADSL, also called "voice on broadband", refers to fixed telephony services using voice on IP technology on an Internet access network. The service is provided to the user by an operator which controls the quality of the service. In practice, the user connects a "box" to the telephone jack.

Telephone via computer, also called "voice on Internet", refers to voice communications services using the public Internet network. The quality of the service is not controlled by an operator. In practice, the user downloads software to his or her computer (Skype or Net Meeting for example), and connects speakers and a microphone to the computer; and if the computer has a webcam, the user can also send and receive video images of him or herself and the person being called.
←
Déplacez le curseur pour consulter le contenu du tableau
→
Competition between fixed telephony operators changes quickly: people who use only the services of the incumbent in their home represent just half of all adults. Close to one-quarter of people now have access to the fixed network via a single operator, which is not France Telecom, thanks to full unbundling and subscription resale, which lets an alternative operator invoice the "traditional" telephone subscription (dial up) to their clients. These clients no longer have any relationship with France Telecom. Thus, the proportion of people using two operators has fallen to 12%.
The ways in which competition developed were initially imposed, with carrier selection then partial unbundling progressively giving way to other means, with full unbundling in first place.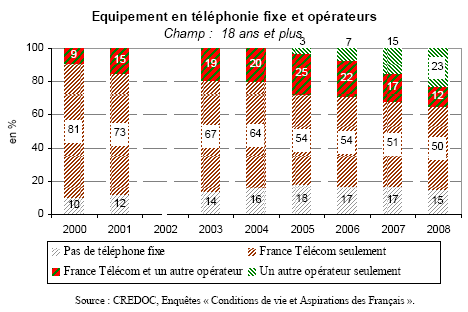 Growth in mobile purchases continues
The mobile telephone equipment rate rose once again three points and reached 78%.
The double fixed and mobile equipment continued to grow and is tending to become the norm as older generations buy mobile phones: two-thirds of adults have both a fixed and mobile phone, as do three-quarters of people between the ages of 18 and 39.
The proportion of people having only a mobile telephone has stabilised at around 15%. These are primarily young people, between the ages of 18 and 39, living alone and with a low income. In particular, one-quarter of people living alone and one-quarter of blue-collar workers use only a mobile telephone.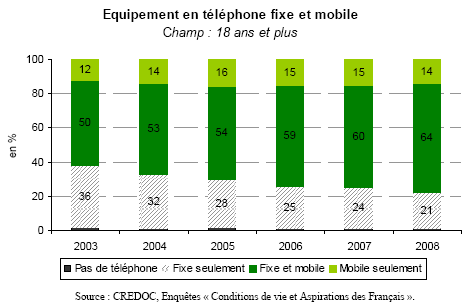 2. Personal computer equipment and Internet connection
Internet access in the home grows strongly once more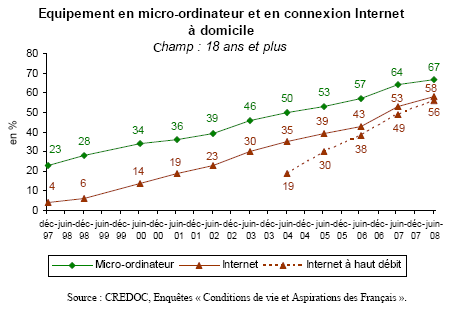 The personal computer equipment rate rose three points between June 2007 and June 2008; two-thirds of adults now have a computer in their home. Internet access is the reason for most new computer users: Internet access rose five points over the same period to 58% of adults. The proportion of computers not connected to the Web is shrinking every year.
Dial-up has now practically disappeared; the rate of high-speed Internet is equal to the general access rate to Internet.
Internet access developing primarily in the home
The growth of Internet access comes primarily from home access. Internet access on the job, which is highly related to the type of job and the sector, is rising only very slowly, and access by adolescents at middle schools and high schools is growing, but effective use, necessarily shared by students, is infrequent.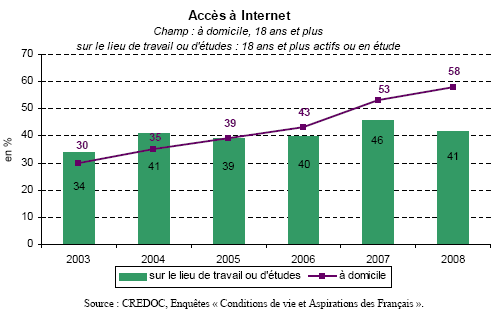 The means of access to television change rapidly
Television reception via an antenna is decreasing every year. In 2006, three-quarters of people received television through an antenna, but this number fell to just 68% in 2008. Bit by bit, digital terrestrial television is replacing the antenna: in June 2008, close to one-third of people watched "classic" channels via digital terrestrial television, compared with just 10% a year earlier.
Television via ADSL is winning new viewers, thanks essentially to the success of high-speed "triple-play" plans: 17% of people aged 12 years and over have access to television via ADSL.
As they diversify, the means of access to television are also multiplying even within the home: in June 2008, one in two people can use more than one mode of access to programmes, where as two years earlier, they represented just one-third of people.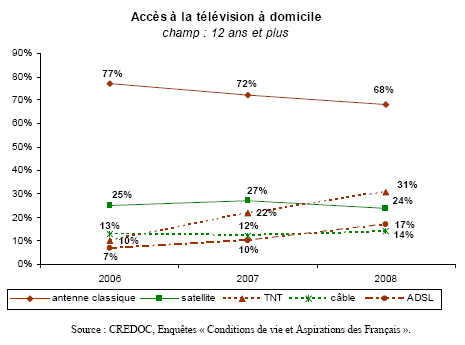 3. Uses OF the mobile telephone
The mobile telephone is still primarily used for voice and SMS
Few of those people questioned for the survey reported using their mobile telephone to surf Internet, consult their e-mails or watch television. These uses haven't yet got off the ground, at least as concerns usual and regular uses. Just 6% of mobile telephone owners report using it to surf the Internet, and just 2% report watching TV on their cell phone.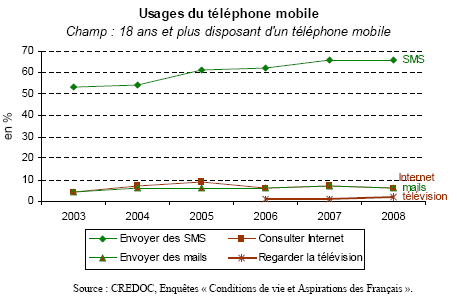 On the other hand, the number of SMS sent per user continues to grow, especially strongly this year, with a 25% increase (19 SMS per week on average compared with 14 in 2007). Remember that this is an average based on people's answers in the survey, to the question "about how many SMS do you send each week?" and not an exact count of the number of messages effectively sent. Still, the answers to this question, asked under the same conditions from one year to the next, reveal more intensive use of this mode of communication.
The boom of SMS in 2008 is borne up entirely by the youngest users, attracted primarily by packages offering an unlimited number of messages. Teens estimate that they send 48 SMS per week on average.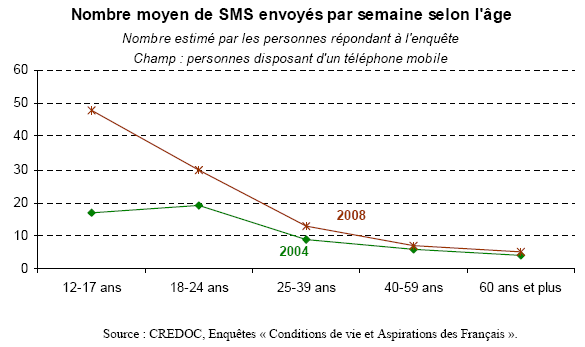 4. Internet Uses
E-commerce rises and expands consumers' choice
In June 2008, 38% of people had made at least one purchase on Internet during the past twelve months, up five points over 2007.
Of those people having made purchases on Internet, a vast majority (70%) believe that they save money because they can compare offers on Internet, and an equivalent proportion (69%) consider they save money by the lower prices of goods and services bought on Internet.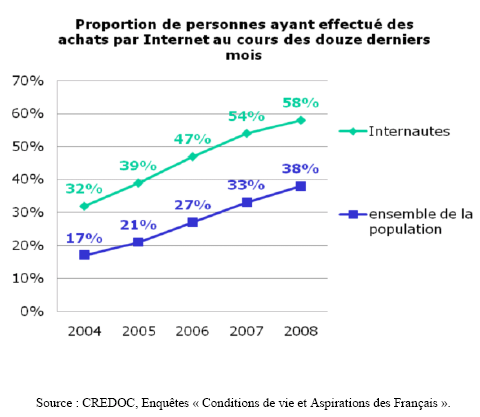 Internet use for administrative and taxation paperwork keeps step
37% of the population has done administrative or taxation paperwork via Internet, or one point more than in 2007. This stabilisation, which may be just temporary, concerns income tax returns via Internet, which reached 7.4 million in 2008, similar to, and not greater than that of 2007.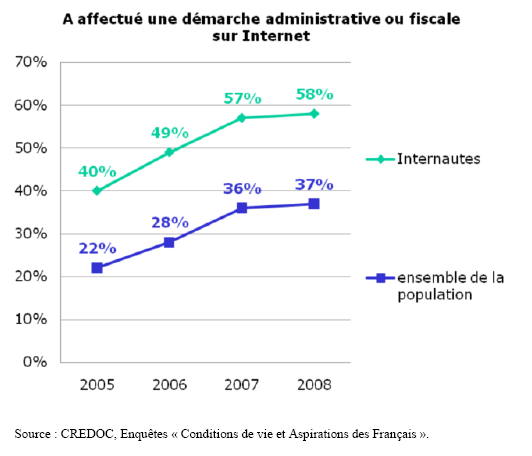 NOTICE
The survey was conducted through face-to-face interviews during the month of June 2007, with a sample of 2 221 people representative of the French population aged 12 and over.
This survey describes the equipment and uses of individuals.
This means that the equipment rate is considered to be the proportion of individuals owning equipment in their home, and not the proportion of households owning equipment, which is generally the case in other studies.
For example, in this survey, 61% of the population aged 12 and over (or about 52 million people) had an Internet connection in the home in June 2008, whereas other surveys whose scope is that of households, may obtain different estimates (85% of 26 million households during the second quarter of 2008 according to the Référence des Equipements Multimédia Médiamétrie-GFK).
The characteristics of sex, age, education, profession and place of residence are of the person questioned, the income is that of the household to which this person belongs.
←
Déplacez le curseur pour consulter le contenu du tableau
→
---
Linked documents

Press conference slides (ppt - 472 Ko) (ppt -
)