Laure de La Raudière - Chairwoman of Arcep
A graduate of the École Normale Supérieure, and a telecommunications engineer, Laure de La Raudière began her career with France Telecom – Orange in 1990 where she held a series of positions: Manager of the "Business Customers" department for the Paris Sud regional division, Director of "Key Accounts" then Director for the Eure-et-Loir department. After having been an associate in a data mining start-up, Pertinence Data Intelligence, in 2003 she founded Madisy-Conseil, then became executive director of Navigacom, two ICT consulting firms whose core clientele is large "user" enterprises.
Since 2007, Laure de La Raudière has been the Deputy for the Eure-et-Loir (Agir Ensemble), and a member of the National Assembly Economic Affairs Committee. Strongly committed to the multifarious issues surrounding digital technology, she was a co-rapporteur for several information reports. She has also been an elected local representative in Saint-Denis-des-Puits since 2001 and departmental councillor for the Eure-et-Loir since 2015.
Since 2018, Laure de La Raudière has been the co-chair of the National Assembly's "Cybersecurity and Digital Sovereignty" parliamentary task force.
Laure de La Raudière was appointed, on the proposal of the President of the Republic, president of the Arcep, by decree published in the Journal Officiel on 28 January 2021, for a six-year term.
• Twitter : @lauredlr
Director of Research in computer sciences at the École Normale Supérieure de Paris and at Inria (the French National Institute for computer science and applied mathematics), Serge ABITEBOUL has a PhD from the University of Southern California, and a Doctorate (thèse d'État) from the Université de Paris-Sud. His work on data, information and knowledge management - notably on the internet - and his theories on databases earned him membership in the Academy of Sciences in 2008, and in the Academy of Europe in 2011.

He is also a lecturer at the École Polytechnique and guest lecturer at Stanford and Oxford University. In 2011, he was appointed to the Collège de France Research Chair in computer and digital sciences. In 2013, he joined the French Digital Council, chaired by Benoît Thieulin, and that same year became President of the Scientific Advisory Board on the Information Society in France. He as been the chairman of the Fondation Blaise Pascal Strategic Council since 2017.

The author of numerous publications on data and algorithms, as well as a novelist, Serge ABITEBOUL is the editor and founder of Blog binaire. He was the curator of the Terra Data exhibition at the Cité des sciences in 2017 and 2018.
• Twitter : @sergeabiteboul
Today, the President of the National Assembly, Richard Ferrand, appointed Maya Bacache to the Arcep Executive Board, starting on 1 October 2019.
A graduate of the École normale supérieure (Ulm), with a post-graduate degree in economics and social sciences, and a PhD in economics, Maya Bacache is a professor of economics at Telecom ParisTech. She was a member of the Economic Analysis Council (CAE), the Employment Advisory Council (COE) and of CSA Lab. She was also a member of Advisory board on electronic communications in 2012. Maya Bacache is currently a member of France's High Council of Public Finances.
Public spending and government reform are among her areas of research, along with the digital economy and digital tech regulation in particular.
Maya Bacache succeeds Martine Lombard who has chosen to terminate her tenure in order to devote herself to her new assignment: she has been appointed President of the jury for the national competitive examination for aggregation in public law.
Born in May 1967, Ms Joëlle Cottenye is Vice-President (UDI) of the Departmental Council of the Nord and Deputy mayor of Hem.
After having begun her career as a teacher of physical education and sport, and of psychomotricity, Joëlle Cottenye was elected Regional councillor for the Nord-Pas-de-Calais in 2010. In 2011, she resigned her office, in accordance with the law on the plurality of offices, to become General Councillor (UDI) du Nord, elected for the township of Lannoy and later the township of Templeuve. Since 2015, she has also been Vice-President of this departmental council, and responsible for education and secondary schools.
A graduate of the Lille institute of Political Science, Joëlle Cottenye is also Director of the
Ecole Supérieure de Journalisme (ESJ) of Lille and a member of the Réserve citoyenne, educational reserves.
On 16 February 2018, she was appointed to the Arcep Executive Board for a six-year term, by the President of the Senate, Mr Gérard Larcher. She is replacing university lecturer, Ms Françoise Benhamou, who was appointed in January 2012 and whose term of office has come to an end.
• Twitter : @JoelleCottenye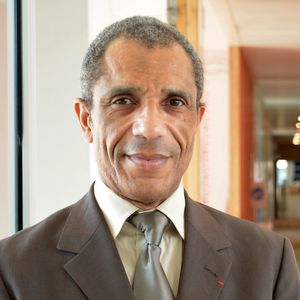 A former student at the Ecole Polytechnique, a graduate of the Ecole nationale supérieure des télécommunications (ENST), and a chief telecommunications engineer, Emmanuel Gabla has been Head of the Economic Section of France's embassy in Norway since 2016.
Emmanuel Gabla began his career in 1993 at the Ministry of PTT, who prepared the 1996 Act that opened the telecoms sector up to competition. Starting in 1997, Emmanuel Gabla served as an advisor on telecoms, the information society, postal affairs and industrial aspects of the internal market to the Permanent Representation of France to the European Union, as technical advisor to the Prime Minister, Jean Pierre Raffarin, in charge of telecoms and postal affairs, industrial property and space, and the head of the Technologies and Information Society department at the Directorate-General for Enterprise.
From 2009 to 2015, Emmanuel Gabla was a member of Board of French broadcasting authority, CSA, and a member of the General Council for the Economy, Industry, Energy and Technologies from 2015 to 2016.
As of 30 September 2021, Emmanuel Gabla is elected Vice-President of BEREC for the year 2022.
He will be taking over from Pierre-Jean Benghozi whose term as a member of the Arcep Executive Board has come to an end.
A graduate of the École Polytechnique, François Lions is a member of the Corps of Engineers. He began his career at France Telecom where he held technical, sales and management positions in the areas of specialised networks, network information and traffic management systems and, lastly, regional affairs.
In 1992, François Lions joined the Directorate of General Regulation, DRG (Direction de la Réglementation Générale), and later the Directorate-General of Posts and Telecommunications, DGPT (Direction générale des postes et télécommunications), where he contributed to the process of opening the telecommunications sector up to competition. In particular, he implemented the first price and accounting supervision mechanisms.
François Lions joined Arcep when it was first created, in January 1997, heading up the Economics and Competition department, and later the Economics and Forward-planning department, up until 2004. In 2005, he was appointed Deputy Director-General, and also became head of the Postal activities department in 2011.
François Lions is coming to replace Philippe Distler whose term as a member of the Executive Board has come to an end. Arcep applauds the tremendous contribution he made to the Authority's work. Philippe Distler participated in Arcep's creation in 1997 and had played a major role ever since.
Monique Liebert-Champagne
State Councillor, a graduate of the Institute of Political Studies (IEP) in Paris, and with a post-graduate degree (DEA) in Economics, Monique LIEBERT-CHAMPAGNE is a graduate of the École nationale d'administration (Class of Henri-François d'Aguesseau).

Joining the Conseil d'Etat in 1982, Monique LIEBERT-CHAMPAGNE was in charge of overseeing tax case law in the resource library before becoming a Government tax commissioner. She was subsequently appointed Director or regional development for the Ile de France region in 1990, then deputy Director-General in 1996. Appointed State Councillor in 1998, she became a Litigation Section assessor and a member of the Finance Section. From 2003 to 2005, she served as director to the Ministry of State Reform, acting as the users' and administrative simplifications delegate.

From 2005 to 2007, she was the Director of Legal affairs, IT and logistics for France's Ministry of Transportation, Infrastructure, Tourism and the Sea, later the Ministry of Energy, Sustainable development and the Sea, before becoming the Director of Legal Affairs for the Ministry of Defence from 2007 to 2012.

Before being appointed to the Arcep Board, she had been the Chair of Energy Regulation Commission's (CRE) Dispute settlement and sanctions committee (CoRDiS) since 2013: acting independently from the Board of Commissioners, this committee enables CRE to guarantee market players' transparent and non-discriminatory access to energy networks.

Monique LIEBERT-CHAMPAGNE has been appointed member of the Arcep Executive Board, starting on 4 January 2017.
Previous Arcep Members